CP Box
Jump to navigation
Jump to search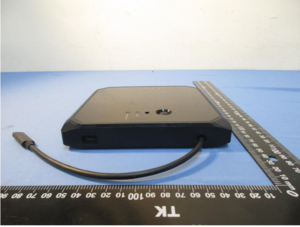 https://fccid.io/NCC/CCAB20LP129BT4
Model Number: CPBH-100
the NCC page for a Testing Kit for PlayStation 5 mentions a so called "CP Box" it is a black box with a USB C input, USB C output, ethernet and power cable.
There are two modes the CP Box can run in "Engineering Mode" and "Normal Mode"
In engineering mode the CP Box is simply plugged into power, with the USB-C Cable in the PS5.
(the traditional chinese there says "Engineering Mode")
however in Normal mode, the CP Box USB-C Port is plugged into a USB-C Portable Hard Drive, and the Ethernet is plugged into your router / network hub, and the USB-C Cable into the ps5.

The "USB Dongle" mentioned here is mentioned in another document to be a USM16CA1 which is a standard USB-C flash drive
on the front of the CP Box it says
   CP INIT
   NETWORK INIT
   
   SPEED
   LINK/ACT
   
   STATUS

Although its unknown at the moment exactly what the CP Box is for - it is to enable dev mode on test and dev kits. possibly the ethernet connection is for checking activation online on DevNet? and the USB Hard Drive maybe for Packages? or games?
Or perhaps its related to the Communication Processor similar to that on the PSVita, maybe its just an external version of it? i dont know ;-;
oh and the the NCC page for the DevKit makes no reference to a "CP Box" it appears to be built into it instead
ProtoType CPBOX 
Logic Board model CPB-K01
main system chip CXD90046GG ,SEC 928 KLMAG1JETD ,SEC 007 K4A8G16 ,Winband 25Q256JVEQ
VR port (USB-C) CYUSB3014-BZX , WinBand 25Q80DV1G
TypeC (USB) SIL 2105 ,Winband 25Q16JVN1Q
Lan RJ45 RTL81530
panel switch rout to 2 PM539 for different GPIO switch (peset by regist)
MARVELL 88E6352 link up  PORT1 CP , PORT3 DEVNET , PORT0 USB ,
2 main CP system ( recover mode and normal mode )  
internal CP RST for hard reset CP 
FDP stick is joy up down left right with enter with menu
input switch button
CP initialize button
Network initialize button
Type-C USB port not available for use now

TEST KIT need CP Box connected  "before Power ON"
NO CP BOX , debug setup setting will auto switch to > "Release mode"
with CP BOX , debug setup setting can switch to > "Assist Mode"
PS5 SYSTEM ON can not hot plug CP BOX , it will show up error message  
PS5 in Assist Mode will save in memory ( even no power ) , but power on time will check CPBOX again
CP BOX can check PS5 info (serial , Assist mode/Release Mode) even PS5 system is shut down   

CPBOX VP port(TYPE-C) will active for use HMD2/NEXT GEN VR/VR2 after cpupdate ver 2700