PlayStation 4 Camera
Jump to navigation
Jump to search
This article is marked for rewrite/restructuring in proper wiki format.
You can help PS4 Developer wiki by editing it.
See also Discussion page
RRA filing: http://rra.go.kr/board/device/view.jsp?app_no=201317100000152603 22 August 2013
Overview of Technical Specifications
Product Code
CUH-ZEY1
External Dimension
approximately 186mm x 27mm x 27mm (height x width x depth)
Weight
approximately 183g
Cable Length
Cord length: 200cm approximately
Connection Type
PS4 dedicated connector AUX (USB 3.0-derived)
Capture Range
30cm - ∞
Camera lens
Dual camera (move like)
Aperture
f/2.0 /fixed focus
Field of view (FOV)
85°
Video Format
RAW16/RAW8, YUV422/YUV8 (greyscale)
Video Frame Rate

| resolution | aspectratio | framerate | remarks |
| --- | --- | --- | --- |
| 1280x800 | 16:10 | 7.5, 15, 30 or 60fps | WXGA |
| 640x400 | 16:10 | 7.5, 15, 30, 60 or 120fps | 1/4th WXGA |
| 320x200 | 16:10 | 7.5, 15, 30, 60, 120 or 240fps | 1/16th WXGA |
| 160x100 | 16:10 | 7.5, 15, 30, 60, 120 or 240fps | 1/64th WXGA |

Color depth
12-bit tonal gradation (=4096 tonal levels)
Microphone
4 Channel Microphone Array
Programmable settings
The PlayStation 4 Camera runs without user login (kernel/system device?) and depends for many of its system functions on the APU, using a tripple buffering system
photo, video
voice commands (available as well with an earset with microphone)
depth calculation/imaging
pad, move, face, head and hand recognition/tracking
one of the cameras can be used for generating the video image, while the other used for motion tracking.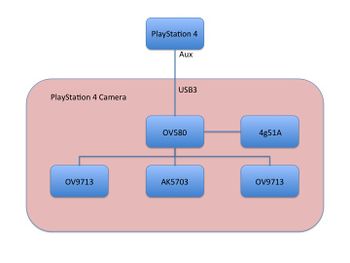 OV580: Back chip connected to Aux port is labeled OV00580-B21G-1C. The OmniVision 580 ASIC is not publicy documented (without signing a NDA with Omnivision), so it seems to have been made specially for Sony (other companies using it are Mantis Vision and LeapMotion) out of the 500/600 serie of processors.
others Omnivision USB bridge solutions: PlayStation EyeToy(OV519) and PlayStation Eye (OV534).
4g51a: EEPROM is labeled as 4g51a. It contains the initial configuration for PlayStation 4 Camera.
Playstation 4 Camera teardown pictures
Pre E3 Playstation 4 Camera pictures
Mouseover for different pictures.
(The C-Note Files - Episode 12: Tutorial - PS4 Face Recognition)
(The C-Note Files - Episode 13: Tutorial - PS4 Voice Recognition)
(The PS4 camera is USB 3.0 only and is not compatible with USB 2.0 systems. See also AUX page)