Files on the PS Vita
Jump to navigation
Jump to search
http://yifan.lu/2014/10/17/ps-vita-3-30-filesystem-listing/
Here's some details of a selected few of the partitions found on the Vita as a bonus.
sd0 Used if MANUFACTURING_MODE, may be available only in internal test units, may refer to a sdio device put in gc slot. (Needs confirmation on this).
app0 found on the NAND Temporary directory which represents current running program. Note: The app listed files is molecularshell, the app running may vary for app0..
os0 found on the NAND is where the "main" OS (aka CoreOS) files are including all the kernel libraries and the most important user libraries. There's always two copies of this for redundancy and updating will only update the inactive partition and the active flag is swapped.
pd0 found on the NAND is where Welcome Park (and the intro video) are found. It is also the "preinst" PUP update.
sa0 found on the NAND is the "bulky" data like fonts and handwriting information. Why is it a separate partition? Because it makes update files smaller. Your "systemdata" PUP provides the update for this partition.
tm0 found on the NAND npdrm partition.
ud0 found on the NAND is used for updates. When you update the Vita, the update file is copied here and the system reboots.
ur0 found on the NAND is the remaining user data that is structured similarly to the memory card (it shares almost the same directory structure). App icon layout for example is found here.
ux0 is the memory card.
vd0 found on the NAND is mainly used for the system registry (settings).
vs0 found on the NAND is the rest of the OS including all the system apps, the main shell, and the remaining user libraries.
gro0 is the game card.
grw0 is the writable part of the game card if supported (for storing save games, patches and DLC of the game).
uma0 is the USB.
app0:eboot.bin
app0:version.txt
app0:/sce_sys/
app0:/sce_sys/icon0.png
app0:/sce_sys/livearea
app0:/sce_sys/package/
app0:/sce_sys/param.sfo
app0:/sce_sys/livearea/contents
app0:/sce_sys/livearea/contents/bg.png
app0:/sce_sys/livearea/contents/install_button.png
app0:/sce_sys/livearea/contents/startup.png
app0:/sce_sys/livearea/contents/template.xml
app0:/sce_sys/package/head.bin
app0:/sce_syss/package/work.bin

sd0:/PSP2/UPDATE/PSVUPDAT.PUP

savedata0:/sce_sys/_safemem.dat
savedata0:/sce_sys/keystone
savedata0:/sce_sys/param.sfo
savedata0:/sce_sys/sdslot.dat
savedata0:/sce_sys/sealedkey

os0:psp2bootconfig.skprx
os0:psp2config_dolce.skprx
os0:psp2config_vita.skprx
os0:kd/acmgr.skprx
os0:kd/authmgr.skprx
os0:kd/bootimage.skprx
os0:kd/buserror.skprx
os0:kd/crashdump.skprx
os0:kd/dbgsdio.skprx
os0:kd/display.skprx
os0:kd/dmacmgr.skprx
os0:kd/enum_wakeup.skprx
os0:kd/error_table.bin
os0:kd/excpmgr.skprx
os0:kd/exfatfs.skprx
os0:kd/gcauthmgr.skprx
os0:kd/gpucoredump_es4.skprx
os0:kd/hdmi.skprx
os0:kd/intrmgr.skprx
os0:kd/iofilemgr.skprx
os0:kd/krm.skprx
os0:kd/lcd.skprx
os0:kd/lowio.skprx
os0:kd/magicgate.skprx
os0:kd/marlin_hci.skprx
os0:kd/mgkeymgr.skprx
os0:kd/mgvideo.skprx
os0:kd/modulemgr.skprx
os0:kd/msif.skprx
os0:kd/oled.skprx
os0:kd/pamgr.skprx
os0:kd/pcbc.skprx
os0:kd/processmgr.skprx
os0:kd/registry.db0
os0:kd/rtc.skprx
os0:kd/sdbgsdio.skprx
os0:kd/sdif.skprx
os0:kd/sdstor.skprx
os0:kd/sm_comm.skprx
os0:kd/smsc_proxy.skprx
os0:kd/ss_mgr.skprx
os0:kd/syscon.skprx
os0:kd/sysmem.skprx
os0:kd/sysstatemgr.skprx
os0:kd/systimer.skprx
os0:kd/threadmgr.skprx
os0:kd/usbdev_serial.skprx
os0:kd/usbpspcm.skprx
os0:kd/usbstor.skprx
os0:kd/usbstormg.skprx
os0:kd/usbstorvstor.skprx
os0:kd/vipimg.skprx
os0:kd/vnzimg.skprx
os0:kd/wlanbt_robin_img_ax.skprx
os0:sm/act_sm.self
os0:sm/aimgr_sm.self
os0:sm/compat_sm.self
os0:sm/encdec_w_portability_sm.self
os0:sm/gcauthmgr_sm.self
os0:sm/mgkm_sm.self
os0:sm/pm_sm.self
os0:sm/qaf_sm.self
os0:sm/rmauth_sm.self
os0:sm/spkg_verifier_sm_w_key_2.self
os0:sm/update_service_sm.self
os0:sm/utoken_sm.self
os0:ue/safemode.self
os0:us/avcodec_us.suprx
os0:us/driver_us.suprx
os0:us/libgpu_es4.suprx
os0:us/libgxm_es4.suprx
os0:us/libkernel.suprx

vs0:app/NPXS10000/eboot.bin
vs0:app/NPXS10000/near_plugin.rco
vs0:app/NPXS10000/near_plugin_animation.rco
vs0:app/NPXS10000/near_plugin_help_emo.rco
vs0:app/NPXS10000/near_plugin_help_flow.rco
vs0:app/NPXS10000/near_plugin_help_item.rco
vs0:app/NPXS10000/near_plugin_help_playlist.rco
vs0:app/NPXS10000/near_plugin_help_ranking.rco
vs0:app/NPXS10000/near_plugin_help_spot.rco
vs0:app/NPXS10000/near_plugin_help_status.rco
vs0:app/NPXS10000/near_plugin_help_title.rco
vs0:app/NPXS10000/near_plugin_livearea.rco
vs0:app/NPXS10000/near_plugin_new_event.rco
vs0:app/NPXS10000/near_plugin_setting.rco
vs0:app/NPXS10000/near_plugin_tuto_common.rco
vs0:app/NPXS10000/sce_sys/icon0.png
vs0:app/NPXS10000/sce_sys/livearea/contents/bg0.png
vs0:app/NPXS10000/sce_sys/livearea/contents/default_gate.png
vs0:app/NPXS10000/sce_sys/livearea/contents/item01.png
vs0:app/NPXS10000/sce_sys/livearea/contents/item02.png
vs0:app/NPXS10000/sce_sys/livearea/contents/item03.png
vs0:app/NPXS10000/sce_sys/livearea/contents/item04.png
vs0:app/NPXS10000/sce_sys/livearea/contents/item_line.png
vs0:app/NPXS10000/sce_sys/livearea/contents/template.xml
vs0:app/NPXS10000/sce_sys/param.sfo
vs0:app/NPXS10000/sce_sys/pic0.png
vs0:app/NPXS10001/eboot.bin
vs0:app/NPXS10001/np_party_app.suprx
vs0:app/NPXS10001/party_session_image.jpg
vs0:app/NPXS10001/sce_sys/PartyPlugin.rco
vs0:app/NPXS10001/sce_sys/icon0.png
vs0:app/NPXS10001/sce_sys/livearea/contents/bg0.png
vs0:app/NPXS10001/sce_sys/livearea/contents/default_gate.png
vs0:app/NPXS10001/sce_sys/livearea/contents/template.xml
vs0:app/NPXS10001/sce_sys/param.sfo
vs0:app/NPXS10001/sce_sys/pic0.png
vs0:app/NPXS10002/eboot.bin
vs0:app/NPXS10002/sce_sys/icon0.png
vs0:app/NPXS10002/sce_sys/livearea/contents/bg0.png
vs0:app/NPXS10002/sce_sys/livearea/contents/bg1.png
vs0:app/NPXS10002/sce_sys/livearea/contents/default_gate.png
vs0:app/NPXS10002/sce_sys/livearea/contents/template.xml
vs0:app/NPXS10002/sce_sys/param.sfo
vs0:app/NPXS10002/sce_sys/pic0.png
vs0:app/NPXS10002/store_browser_plugin.rco
vs0:app/NPXS10003/eboot.bin
vs0:app/NPXS10003/preset/Asia_B1_favicon.gim
vs0:app/NPXS10003/preset/EU_B1_favicon_32x32.gim
vs0:app/NPXS10003/preset/J1_B1_favicon_SCEJ.gim
vs0:app/NPXS10003/preset/J1_B2_favicon.gim
vs0:app/NPXS10003/preset/J1_B3_favicon.png
vs0:app/NPXS10003/preset/T-ball-32.gim
vs0:app/NPXS10003/preset/UC2_B1-Banner_8BitPNG.png
vs0:app/NPXS10003/preset/UC2_B1_Favicon_8BitPNG.gim
vs0:app/NPXS10003/sce_sys/icon0.png
vs0:app/NPXS10003/sce_sys/livearea/contents/Asia_B1_Banner.png
vs0:app/NPXS10003/sce_sys/livearea/contents/EU_B1_Banner.png
vs0:app/NPXS10003/sce_sys/livearea/contents/J1_B1_banner_SCEJ.png
vs0:app/NPXS10003/sce_sys/livearea/contents/J1_B2_282x108_02.png
vs0:app/NPXS10003/sce_sys/livearea/contents/LA_window.png
vs0:app/NPXS10003/sce_sys/livearea/contents/UC2_B1-Banner_24BitPNG.png
vs0:app/NPXS10003/sce_sys/livearea/contents/UC2_B1-Banner_8BitPNG.png
vs0:app/NPXS10003/sce_sys/livearea/contents/bg0.png
vs0:app/NPXS10003/sce_sys/livearea/contents/def_gate.gim
vs0:app/NPXS10003/sce_sys/livearea/contents/favicon.png
vs0:app/NPXS10003/sce_sys/livearea/contents/mydolce_banner2.png
vs0:app/NPXS10003/sce_sys/livearea/contents/template.xml
vs0:app/NPXS10003/sce_sys/param.sfo
vs0:app/NPXS10003/sce_sys/pic0.png
vs0:app/NPXS10003/webbrowser_bookmark.db
vs0:app/NPXS10003/webbrowser_config.xml
vs0:app/NPXS10003/webbrowser_history.db
vs0:app/NPXS10003/webbrowser_plugin.rco
vs0:app/NPXS10003/webbrowser_preset.db
vs0:app/NPXS10003/webbrowser_preset_VITA_1.db
vs0:app/NPXS10003/webbrowser_preset_VITA_2.db
vs0:app/NPXS10003/webbrowser_preset_VTE_1.db
vs0:app/NPXS10004/eboot.bin
vs0:app/NPXS10004/photocam_plugin.rco
vs0:app/NPXS10004/sce_sys/icon0.png
vs0:app/NPXS10004/sce_sys/livearea/contents/bg0.png
vs0:app/NPXS10004/sce_sys/livearea/contents/camera.png
vs0:app/NPXS10004/sce_sys/livearea/contents/default_gate.png
vs0:app/NPXS10004/sce_sys/livearea/contents/photo.png
vs0:app/NPXS10004/sce_sys/livearea/contents/template.xml
vs0:app/NPXS10004/sce_sys/param.sfo
vs0:app/NPXS10004/sce_sys/pic0.png
vs0:app/NPXS10005/eboot.bin
vs0:app/NPXS10005/mapviewer.db
vs0:app/NPXS10005/mapviewer_plugin.rco
vs0:app/NPXS10005/sce_sys/icon0.png
vs0:app/NPXS10005/sce_sys/livearea/contents/LA_Text_BG.gim
vs0:app/NPXS10005/sce_sys/livearea/contents/Map_Default_Gate.gim
vs0:app/NPXS10005/sce_sys/livearea/contents/Map_LA_BG.gim
vs0:app/NPXS10005/sce_sys/livearea/contents/Text_BG_car.gim
vs0:app/NPXS10005/sce_sys/livearea/contents/Text_BG_human.gim
vs0:app/NPXS10005/sce_sys/livearea/contents/route_history.gim
vs0:app/NPXS10005/sce_sys/livearea/contents/search_history.gim
vs0:app/NPXS10005/sce_sys/livearea/contents/template.xml
vs0:app/NPXS10005/sce_sys/param.sfo
vs0:app/NPXS10005/sce_sys/pic0.png
vs0:app/NPXS10006/eboot.bin
vs0:app/NPXS10006/friend_plugin.rco
vs0:app/NPXS10006/sce_sys/icon0.png
vs0:app/NPXS10006/sce_sys/livearea/contents/bg0.png
vs0:app/NPXS10006/sce_sys/livearea/contents/default_gate.png
vs0:app/NPXS10006/sce_sys/livearea/contents/template.xml
vs0:app/NPXS10006/sce_sys/param.sfo
vs0:app/NPXS10006/sce_sys/pic0.png
vs0:app/NPXS10008/eboot.bin
vs0:app/NPXS10008/sce_sys/icon0.png
vs0:app/NPXS10008/sce_sys/livearea/contents/bg0.png
vs0:app/NPXS10008/sce_sys/livearea/contents/default_gate.png
vs0:app/NPXS10008/sce_sys/livearea/contents/template.xml
vs0:app/NPXS10008/sce_sys/param.sfo
vs0:app/NPXS10008/sce_sys/pic0.png
vs0:app/NPXS10008/trophy_local_plugin.rco
vs0:app/NPXS10008/trophy_network_plugin.rco
vs0:app/NPXS10008/trophy_plugin.rco
vs0:app/NPXS10009/eboot.bin
vs0:app/NPXS10009/musicbrowser_plugin.rco
vs0:app/NPXS10009/sce_sys/icon0.png
vs0:app/NPXS10009/sce_sys/livearea/contents/bg0.png
vs0:app/NPXS10009/sce_sys/livearea/contents/startup.png
vs0:app/NPXS10009/sce_sys/livearea/contents/template.xml
vs0:app/NPXS10009/sce_sys/param.sfo
vs0:app/NPXS10009/sce_sys/pic0.png
vs0:app/NPXS10010/eboot.bin
vs0:app/NPXS10010/sce_sys/icon0.png
vs0:app/NPXS10010/sce_sys/livearea/contents/VideoPlayer_Gate.png
vs0:app/NPXS10010/sce_sys/livearea/contents/bg0.png
vs0:app/NPXS10010/sce_sys/livearea/contents/template.xml
vs0:app/NPXS10010/sce_sys/param.sfo
vs0:app/NPXS10010/sce_sys/pic0.png
vs0:app/NPXS10010/videobrowser_plugin.rco
vs0:app/NPXS10010/videoplayer_plugin.rco
vs0:app/NPXS10010/videoplayer_settings.xml
vs0:app/NPXS10012/eboot.bin
vs0:app/NPXS10012/remoteplay_plugin.rco
vs0:app/NPXS10012/sce_sys/icon0.png
vs0:app/NPXS10012/sce_sys/livearea/contents/bg0.png
vs0:app/NPXS10012/sce_sys/livearea/contents/comboplay.png
vs0:app/NPXS10012/sce_sys/livearea/contents/default_gate.png
vs0:app/NPXS10012/sce_sys/livearea/contents/template.xml
vs0:app/NPXS10012/sce_sys/param.sfo
vs0:app/NPXS10012/sce_sys/pic0.png
vs0:app/NPXS10013/eboot.bin
vs0:app/NPXS10013/gaikai-player.suprx
vs0:app/NPXS10013/json-configs/rp.json
vs0:app/NPXS10013/keymap/00/001.png
vs0:app/NPXS10013/keymap/01/001.png
vs0:app/NPXS10013/keymap/02/001.png
vs0:app/NPXS10013/keymap/03/001.png
vs0:app/NPXS10013/libSceSecondScreen.suprx
vs0:app/NPXS10013/resource/remoteplay_plugin.rco
vs0:app/NPXS10013/sce_sys/icon0.png
vs0:app/NPXS10013/sce_sys/livearea/contents/bg0.png
vs0:app/NPXS10013/sce_sys/livearea/contents/default_gate.png
vs0:app/NPXS10013/sce_sys/livearea/contents/template.xml
vs0:app/NPXS10013/sce_sys/param.sfo
vs0:app/NPXS10013/sce_sys/pic0.png
vs0:app/NPXS10013/second_screen.rco
vs0:app/NPXS10014/eboot.bin
vs0:app/NPXS10014/psn_mail_plugin.rco
vs0:app/NPXS10014/sce_sys/icon0.png
vs0:app/NPXS10014/sce_sys/livearea/contents/Messages_LA_bg.png
vs0:app/NPXS10014/sce_sys/livearea/contents/Messages_btn_LAReceivedMsg.png
vs0:app/NPXS10014/sce_sys/livearea/contents/Messages_gate.png
vs0:app/NPXS10014/sce_sys/livearea/contents/template.xml
vs0:app/NPXS10014/sce_sys/param.sfo
vs0:app/NPXS10014/sce_sys/pic0.png
vs0:app/NPXS10015/bluetooth_settings_plugin.rco
vs0:app/NPXS10015/console_info_plugin.rco
vs0:app/NPXS10015/datetime_settings_plugin.rco
vs0:app/NPXS10015/debug_settings_plugin.rco
vs0:app/NPXS10015/eboot.bin
vs0:app/NPXS10015/idu_settings_plugin.rco
vs0:app/NPXS10015/language_settings_plugin.rco
vs0:app/NPXS10015/location_settings_plugin.rco
vs0:app/NPXS10015/network_settings_plugin.rco
vs0:app/NPXS10015/notification_settings_plugin.rco
vs0:app/NPXS10015/peripherals_settings_plugin.rco
vs0:app/NPXS10015/powersave_settings_plugin.rco
vs0:app/NPXS10015/psn_settings_plugin.rco
vs0:app/NPXS10015/reset_plugin.rco
vs0:app/NPXS10015/sce_sys/icon0.png
vs0:app/NPXS10015/sce_sys/livearea/contents/bg0.png
vs0:app/NPXS10015/sce_sys/livearea/contents/default_gate.png
vs0:app/NPXS10015/sce_sys/livearea/contents/item_usersguide.png
vs0:app/NPXS10015/sce_sys/livearea/contents/template.xml
vs0:app/NPXS10015/sce_sys/param.sfo
vs0:app/NPXS10015/sce_sys/pic0.png
vs0:app/NPXS10015/security_settings_plugin.rco
vs0:app/NPXS10015/sound_settings_plugin.rco
vs0:app/NPXS10015/system_settings_core.suprx
vs0:app/NPXS10015/system_settings_main.rco
vs0:app/NPXS10015/system_settings_plugin.rco
vs0:app/NPXS10015/system_update_plugin.rco
vs0:app/NPXS10015/telephony/tel_set_operator_profile.ini
vs0:app/NPXS10015/telephony_settings_plugin.rco
vs0:app/NPXS10015/theme_settings_plugin.rco
vs0:app/NPXS10015/wifi_settings_plugin.rco
vs0:app/NPXS10016/sce_sys/param.sfo
vs0:app/NPXS10017/eboot.bin
vs0:app/NPXS10017/jx_web_filtering.suprx
vs0:app/NPXS10017/lib/Plugins/silk_plugin.suprx
vs0:app/NPXS10017/sce_sys/param.sfo
vs0:app/NPXS10017/vita_jsextobj.suprx
vs0:app/NPXS10018/eboot.bin
vs0:app/NPXS10018/sce_sys/icon0.png
vs0:app/NPXS10018/sce_sys/livearea/contents/bg0.png
vs0:app/NPXS10018/sce_sys/livearea/contents/template.xml
vs0:app/NPXS10018/sce_sys/param.sfo
vs0:app/NPXS10018/sce_sys/pic0.png
vs0:app/NPXS10018/signup_plugin.rco
vs0:app/NPXS10021/eboot.bin
vs0:app/NPXS10021/opco_icon/ca_telecom.png
vs0:app/NPXS10021/opco_icon/eu_telecom.png
vs0:app/NPXS10021/opco_icon/jp_telecom.png
vs0:app/NPXS10021/opco_icon/unknown.png
vs0:app/NPXS10021/opco_icon/us_telecom.png
vs0:app/NPXS10021/sce_sys/icon0.png
vs0:app/NPXS10021/sce_sys/livearea/contents/bg0.png
vs0:app/NPXS10021/sce_sys/livearea/contents/default_gate.png
vs0:app/NPXS10021/sce_sys/livearea/contents/template.xml
vs0:app/NPXS10021/sce_sys/param.sfo
vs0:app/NPXS10021/tel_reg.suprx
vs0:app/NPXS10021/tel_reg_main.rco
vs0:app/NPXS10021/tel_reg_plugin.rco
vs0:app/NPXS10023/eboot.bin
vs0:app/NPXS10023/sce_sys/param.sfo
vs0:app/NPXS10024/eboot.bin
vs0:app/NPXS10024/sce_sys/livearea/contents
vs0:app/NPXS10024/sce_sys/param.sfo
vs0:app/NPXS10025/eboot.bin
vs0:app/NPXS10025/sce_sys/livearea/contents
vs0:app/NPXS10025/sce_sys/param.sfo
vs0:app/NPXS10026/account_bind_plugin.rco
vs0:app/NPXS10026/eboot.bin
vs0:app/NPXS10026/host_select_plugin.rco
vs0:app/NPXS10026/resource.rco
vs0:app/NPXS10026/sce_sys/icon0.png
vs0:app/NPXS10026/sce_sys/livearea/contents/bg0.png
vs0:app/NPXS10026/sce_sys/livearea/contents/default_gate.png
vs0:app/NPXS10026/sce_sys/livearea/contents/template.xml
vs0:app/NPXS10026/sce_sys/param.sfo
vs0:app/NPXS10026/sce_sys/pic0.png
vs0:app/NPXS10027/eboot.bin
vs0:app/NPXS10027/game_manual_plugin.rco
vs0:app/NPXS10027/sce_sys/param.sfo
vs0:app/NPXS10027/sce_sys/pic0.png
vs0:app/NPXS10028/__sce_discinfo
vs0:app/NPXS10028/eboot.bin
vs0:app/NPXS10028/pcff.skprx
vs0:app/NPXS10028/sce_sys/param.sfo
vs0:app/NPXS10028/sce_sys/ps1_livearea/contents/bg0.png
vs0:app/NPXS10028/sce_sys/ps1_livearea/contents/pokesute_off.png
vs0:app/NPXS10028/sce_sys/ps1_livearea/contents/pokesute_on.png
vs0:app/NPXS10028/sce_sys/ps1_livearea/contents/ps1.png
vs0:app/NPXS10028/sce_sys/ps1_livearea/contents/template.xml
vs0:app/NPXS10028/sce_sys/psp_livearea/contents/bg0.png
vs0:app/NPXS10028/sce_sys/psp_livearea/contents/template.xml
vs0:app/NPXS10029/eboot.bin
vs0:app/NPXS10029/sce_sys/param.sfo
vs0:app/NPXS10031/eboot.bin
vs0:app/NPXS10031/sample_plugin.rco
vs0:app/NPXS10031/sce_sys/icon0.png
vs0:app/NPXS10031/sce_sys/livearea/contents/bg0.png
vs0:app/NPXS10031/sce_sys/livearea/contents/default_gate.png
vs0:app/NPXS10031/sce_sys/livearea/contents/template.xml
vs0:app/NPXS10031/sce_sys/param.sfo
vs0:app/NPXS10032/eboot.bin
vs0:app/NPXS10032/sce_sys/param.sfo
vs0:app/NPXS10035/sce_sys/param.sfo
vs0:app/NPXS10036/eboot.bin
vs0:app/NPXS10036/sce_sys/param.sfo
vs0:app/NPXS10037/eboot.bin
vs0:app/NPXS10037/jx_web_filtering.suprx
vs0:app/NPXS10037/lib/Plugins
vs0:app/NPXS10037/sce_sys/param.sfo
vs0:app/NPXS10037/vita_jsextobj.suprx
vs0:app/NPXS10040/sce_sys/icon0.png
vs0:app/NPXS10040/sce_sys/livearea/contents/bg0.png
vs0:app/NPXS10040/sce_sys/livearea/contents/default_gate.png
vs0:app/NPXS10040/sce_sys/livearea/contents/template.xml
vs0:app/NPXS10040/sce_sys/param.sfo
vs0:app/NPXS10040/sce_sys/pic0.png
vs0:app/NPXS10041/sce_sys/icon0.png
vs0:app/NPXS10041/sce_sys/livearea/contents/bg0.png
vs0:app/NPXS10041/sce_sys/livearea/contents/default_gate.png
vs0:app/NPXS10041/sce_sys/livearea/contents/op_logo.png
vs0:app/NPXS10041/sce_sys/livearea/contents/template.xml
vs0:app/NPXS10041/sce_sys/param.sfo
vs0:app/NPXS10041/sce_sys/pic0.png
vs0:app/NPXS10042/sce_sys/icon0.png
vs0:app/NPXS10042/sce_sys/livearea/contents/bg0.png
vs0:app/NPXS10042/sce_sys/livearea/contents/default_gate.png
vs0:app/NPXS10042/sce_sys/livearea/contents/op_logo.png
vs0:app/NPXS10042/sce_sys/livearea/contents/template.xml
vs0:app/NPXS10042/sce_sys/param.sfo
vs0:app/NPXS10042/sce_sys/pic0.png
vs0:app/NPXS10043/sce_sys/icon0.png
vs0:app/NPXS10043/sce_sys/livearea/contents/bg0.png
vs0:app/NPXS10043/sce_sys/livearea/contents/default_gate.png
vs0:app/NPXS10043/sce_sys/livearea/contents/template.xml
vs0:app/NPXS10043/sce_sys/param.sfo
vs0:app/NPXS10043/sce_sys/pic0.png
vs0:app/NPXS10044/sce_sys/icon0.png
vs0:app/NPXS10044/sce_sys/livearea/contents/bg0.png
vs0:app/NPXS10044/sce_sys/livearea/contents/default_gate.png
vs0:app/NPXS10044/sce_sys/livearea/contents/frame1.png
vs0:app/NPXS10044/sce_sys/livearea/contents/frame2.png
vs0:app/NPXS10044/sce_sys/livearea/contents/frame3.png
vs0:app/NPXS10044/sce_sys/livearea/contents/template.xml
vs0:app/NPXS10044/sce_sys/param.sfo
vs0:app/NPXS10044/sce_sys/pic0.png
vs0:app/NPXS10045/sce_sys/icon0.png
vs0:app/NPXS10045/sce_sys/livearea/contents/bg0.png
vs0:app/NPXS10045/sce_sys/livearea/contents/default_gate.png
vs0:app/NPXS10045/sce_sys/livearea/contents/template.xml
vs0:app/NPXS10045/sce_sys/param.sfo
vs0:app/NPXS10045/sce_sys/pic0.png
vs0:app/NPXS10060/sce_sys/icon0.png
vs0:app/NPXS10060/sce_sys/param.sfo
vs0:app/NPXS10063/eboot.bin
vs0:app/NPXS10063/grpmsg_middleware.rco
vs0:app/NPXS10063/sce_sys/livearea/contents
vs0:app/NPXS10063/sce_sys/param.sfo
vs0:app/NPXS10065/eboot.bin
vs0:app/NPXS10065/grief_report_dialog.suprx
vs0:app/NPXS10065/grief_report_dialog_bg_plugin.rco
vs0:app/NPXS10065/grief_report_dialog_general_plugin.rco
vs0:app/NPXS10065/grief_report_dialog_specific_plugin.rco
vs0:app/NPXS10065/sce_sys/param.sfo
vs0:app/NPXS10065/sce_sys/pic0.png
vs0:app/NPXS10072/eboot.bin
vs0:app/NPXS10072/email_edit_preview_plugin.rco
vs0:app/NPXS10072/email_engine.suprx
vs0:app/NPXS10072/email_first_plugin.rco
vs0:app/NPXS10072/email_plugin.rco
vs0:app/NPXS10072/email_settings_plugin.rco
vs0:app/NPXS10072/email_view_plugin.rco
vs0:app/NPXS10072/sce_sys/icon0.png
vs0:app/NPXS10072/sce_sys/livearea/contents/Email_LA_bg.png
vs0:app/NPXS10072/sce_sys/livearea/contents/default_gate.png
vs0:app/NPXS10072/sce_sys/livearea/contents/template.xml
vs0:app/NPXS10072/sce_sys/param.sfo
vs0:app/NPXS10072/sce_sys/pic0.png
vs0:app/NPXS10073/eboot.bin
vs0:app/NPXS10073/email_bg_plugin.rco
vs0:app/NPXS10073/sce_sys/param.sfo
vs0:app/NPXS10077/crash_report.rco
vs0:app/NPXS10077/eboot.bin
vs0:app/NPXS10077/sce_sys/param.sfo
vs0:app/NPXS10078/comboplay_plugin.rco
vs0:app/NPXS10078/eboot.bin
vs0:app/NPXS10078/sce_sys/icon0.png
vs0:app/NPXS10078/sce_sys/livearea/contents/bg0.png
vs0:app/NPXS10078/sce_sys/livearea/contents/default_gate.png
vs0:app/NPXS10078/sce_sys/livearea/contents/template.xml
vs0:app/NPXS10078/sce_sys/param.sfo
vs0:app/NPXS10078/sce_sys/pic0.png
vs0:app/NPXS10079/dailychecker_bg.rco
vs0:app/NPXS10079/eboot.bin
vs0:app/NPXS10079/sce_sys/param.sfo
vs0:app/NPXS10080/eboot.bin
vs0:app/NPXS10080/sce_sys/livearea/contents
vs0:app/NPXS10080/sce_sys/param.sfo
vs0:app/NPXS10081/eboot.bin
vs0:app/NPXS10081/psm_manual_plugin.rco
vs0:app/NPXS10081/sce_sys/param.sfo
vs0:app/NPXS10081/sce_sys/pic0.png
vs0:app/NPXS10082/sce_sys/param.sfo
vs0:app/NPXS10082/spawn.self
vs0:app/NPXS10083/eboot.bin
vs0:app/NPXS10083/sce_sys/param.sfo
vs0:app/NPXS10084/eboot.bin
vs0:app/NPXS10084/sce_sys/param.sfo
vs0:app/NPXS10085/eboot.bin
vs0:app/NPXS10085/sce_sys/param.sfo
vs0:app/NPXS10085/sce_sys/pic0.png
vs0:app/NPXS10085/videoplayer_plugin.rco
vs0:app/NPXS10085/videoplayer_settings.xml
vs0:app/NPXS10090/sce_sys/param.sfo
vs0:app/NPXS10091/calendar_plugin.rco
vs0:app/NPXS10091/eboot.bin
vs0:app/NPXS10091/sce_sys/icon0.png
vs0:app/NPXS10091/sce_sys/livearea/contents/bg0.png
vs0:app/NPXS10091/sce_sys/livearea/contents/cal_livearea_list_bg.gim
vs0:app/NPXS10091/sce_sys/livearea/contents/cal_livearea_recommend.gim
vs0:app/NPXS10091/sce_sys/livearea/contents/cal_livearea_recommend_new.gim
vs0:app/NPXS10091/sce_sys/livearea/contents/default_gate.png
vs0:app/NPXS10091/sce_sys/livearea/contents/template.xml
vs0:app/NPXS10091/sce_sys/param.sfo
vs0:app/NPXS10091/sce_sys/pic0.png
vs0:app/NPXS10091/sce_sys/ringtone.mp3
vs0:app/NPXS10092/calendar_bg_plugin.rco
vs0:app/NPXS10092/eboot.bin
vs0:app/NPXS10092/sce_sys/param.sfo
vs0:app/NPXS10093/sce_sys/icon0.png
vs0:app/NPXS10093/sce_sys/livearea/contents/bg.png
vs0:app/NPXS10093/sce_sys/livearea/contents/template.xml
vs0:app/NPXS10093/sce_sys/param.sfo
vs0:app/NPXS10094/eboot.bin
vs0:app/NPXS10094/kids_app_plugin.rco
vs0:app/NPXS10094/sce_sys/icon0.png
vs0:app/NPXS10094/sce_sys/livearea/contents/bg0.png
vs0:app/NPXS10094/sce_sys/livearea/contents/default_gate.png
vs0:app/NPXS10094/sce_sys/livearea/contents/template.xml
vs0:app/NPXS10094/sce_sys/param.sfo
vs0:app/NPXS10094/sce_sys/pic0.png
vs0:app/NPXS10095/eboot.bin
vs0:app/NPXS10095/panorama_plugin.rco
vs0:app/NPXS10095/sce_sys/icon0.png
vs0:app/NPXS10095/sce_sys/livearea/contents
vs0:app/NPXS10095/sce_sys/param.sfo
vs0:app/NPXS10095/sce_sys/pic0.png
vs0:app/NPXS10098/eboot.bin
vs0:app/NPXS10098/gaikai-player.suprx
vs0:app/NPXS10098/json-configs/rp.json
vs0:app/NPXS10098/json-configs/rp_720p.json
vs0:app/NPXS10098/resource/remoteplay_plugin.rco
vs0:app/NPXS10098/sce_sys/icon0.png
vs0:app/NPXS10098/sce_sys/livearea/contents/bg0.png
vs0:app/NPXS10098/sce_sys/livearea/contents/default_gate.png
vs0:app/NPXS10098/sce_sys/livearea/contents/template.xml
vs0:app/NPXS10098/sce_sys/param.sfo
vs0:app/NPXS10098/sce_sys/pic0.png
vs0:app/NPXS10100/eboot.bin
vs0:app/NPXS10100/sce_sys/param.sfo
vs0:app/NPXS10101/eboot.bin
vs0:app/NPXS10101/sce_sys/param.sfo
vs0:app/NPXS10916/MainView.rco
vs0:app/NPXS10916/eboot.bin
vs0:app/NPXS10916/sce_sys/icon0.png
vs0:app/NPXS10916/sce_sys/livearea/contents/bg0.png
vs0:app/NPXS10916/sce_sys/livearea/contents/template.xml
vs0:app/NPXS10916/sce_sys/param.sfo
vs0:data/external/app/default/sce_sys/livearea/contents
vs0:data/external/app/friends/sce_sys/livearea
vs0:data/external/app/signup/sce_sys/livearea/contents
vs0:data/external/app/webbrowser
vs0:data/external/cdlg/calendar_review_dialog_plugin.rco
vs0:data/external/cdlg/cameraimport_dialog_plugin.rco
vs0:data/external/cdlg/companion_dialog_plugin.rco
vs0:data/external/cdlg/compat_dialog_plugin.rco
vs0:data/external/cdlg/contacts_list_plugin.rco
vs0:data/external/cdlg/contacts_near_plugin.rco
vs0:data/external/cdlg/contacts_pa_plugin.rco
vs0:data/external/cdlg/cross_controller_dialog_plugin.rco
vs0:data/external/cdlg/fb_dialog_plugin.rco
vs0:data/external/cdlg/friend_profile_plugin.rco
vs0:data/external/cdlg/friend_select_plugin.rco
vs0:data/external/cdlg/friendlist_dialog_plugin.rco
vs0:data/external/cdlg/game_custom_data_dialog_impl_plugin.rco
vs0:data/external/cdlg/ime_dialog_plugin.rco
vs0:data/external/cdlg/invitation_dialog_impl_plugin.rco
vs0:data/external/cdlg/mailer_address_plugin.rco
vs0:data/external/cdlg/msg_dialog_plugin.rco
vs0:data/external/cdlg/near_dialog_plugin.rco
vs0:data/external/cdlg/netcheck_plugin.rco
vs0:data/external/cdlg/np_message_dialog_impl_plugin.rco
vs0:data/external/cdlg/np_sns_fb_dialog_plugin.rco
vs0:data/external/cdlg/np_trophy_setup_dialog_plugin.rco
vs0:data/external/cdlg/npeula_dialog_plugin.rco
vs0:data/external/cdlg/npprofile_dialog_plugin.rco
vs0:data/external/cdlg/party_member_list_plugin.rco
vs0:data/external/cdlg/patch_chk_plugin.rco
vs0:data/external/cdlg/photoimport_dialog_plugin.rco
vs0:data/external/cdlg/photoreview_dialog_plugin.rco
vs0:data/external/cdlg/pocketstation_dialog_plugin.rco
vs0:data/external/cdlg/remote_osk_dialog_plugin.rco
vs0:data/external/cdlg/savedata_dialog_plugin.rco
vs0:data/external/cdlg/signin_ext_plugin.rco
vs0:data/external/cdlg/signin_plugin.rco
vs0:data/external/cdlg/store_checkout_dialog_plugin.rco
vs0:data/external/cdlg/store_checkout_plugin.rco
vs0:data/external/cdlg/sysupchk_plugin.rco
vs0:data/external/cdlg/tw_login_dialog_plugin.rco
vs0:data/external/cdlg/twitter_dialog_plugin.rco
vs0:data/external/cdlg/web_ui_plugin.rco
vs0:data/external/cert/CA_LIST.cer
vs0:data/external/common/common_resource.rco
vs0:data/external/font/emoji/imagefont.bin
vs0:data/external/font/pvf/c041056ts.ttf
vs0:data/external/font/pvf/d013013ds.ttf
vs0:data/external/font/pvf/e046323ms.ttf
vs0:data/external/font/pvf/e046323ts.ttf
vs0:data/external/font/pvf/k006004ds.ttf
vs0:data/external/font/pvf/n023055ms.ttf
vs0:data/external/font/pvf/n023055ts.ttf
vs0:data/external/grpmsg
vs0:data/external/psm
vs0:data/external/web/data/fonts
vs0:data/external/web/data/icu/icudt40l/brkitr
vs0:data/external/web/data/icu/icudt40l/coll
vs0:data/external/web/etc
vs0:data/external/web/lib/Plugins
vs0:data/external/webcore/SceHafnium.suprx
vs0:data/external/webcore/ScePsp2Compat.suprx
vs0:data/external/webcore/SceWebKitModule.suprx
vs0:data/external/webcore/data/CEFramework.bin
vs0:data/external/webcore/data/CEHtmlApi.bin
vs0:data/external/webcore/data/CEHtmlUI.bin
vs0:data/external/webcore/data/fonts
vs0:data/external/webcore/data/icu/icudt40l/brkitr/char.brk
vs0:data/external/webcore/data/icu/icudt40l/brkitr/en.res
vs0:data/external/webcore/data/icu/icudt40l/brkitr/en_US.res
vs0:data/external/webcore/data/icu/icudt40l/brkitr/en_US_POSIX.res
vs0:data/external/webcore/data/icu/icudt40l/brkitr/ja.res
vs0:data/external/webcore/data/icu/icudt40l/brkitr/line.brk
vs0:data/external/webcore/data/icu/icudt40l/brkitr/res_index.res
vs0:data/external/webcore/data/icu/icudt40l/brkitr/root.res
vs0:data/external/webcore/data/icu/icudt40l/brkitr/sent.brk
vs0:data/external/webcore/data/icu/icudt40l/brkitr/title.brk
vs0:data/external/webcore/data/icu/icudt40l/brkitr/word.brk
vs0:data/external/webcore/data/icu/icudt40l/brkitr/word_POSIX.brk
vs0:data/external/webcore/data/icu/icudt40l/brkitr/word_ja.brk
vs0:data/external/webcore/data/icu/icudt40l/cns-11643-1992.cnv
vs0:data/external/webcore/data/icu/icudt40l/cnvalias.icu
vs0:data/external/webcore/data/icu/icudt40l/coll/root.res
vs0:data/external/webcore/data/icu/icudt40l/ebcdic-xml-us.cnv
vs0:data/external/webcore/data/icu/icudt40l/gb18030.cnv
vs0:data/external/webcore/data/icu/icudt40l/ibm-1006_P100-1995.cnv
vs0:data/external/webcore/data/icu/icudt40l/ibm-1025_P100-1995.cnv
vs0:data/external/webcore/data/icu/icudt40l/ibm-1026_P100-1995.cnv
vs0:data/external/webcore/data/icu/icudt40l/ibm-1047_P100-1995.cnv
vs0:data/external/webcore/data/icu/icudt40l/ibm-1051_P100-1995.cnv
vs0:data/external/webcore/data/icu/icudt40l/ibm-1089_P100-1995.cnv
vs0:data/external/webcore/data/icu/icudt40l/ibm-1097_P100-1995.cnv
vs0:data/external/webcore/data/icu/icudt40l/ibm-1098_P100-1995.cnv
vs0:data/external/webcore/data/icu/icudt40l/ibm-1112_P100-1995.cnv
vs0:data/external/webcore/data/icu/icudt40l/ibm-1122_P100-1999.cnv
vs0:data/external/webcore/data/icu/icudt40l/ibm-1123_P100-1995.cnv
vs0:data/external/webcore/data/icu/icudt40l/ibm-1124_P100-1996.cnv
vs0:data/external/webcore/data/icu/icudt40l/ibm-1125_P100-1997.cnv
vs0:data/external/webcore/data/icu/icudt40l/ibm-1129_P100-1997.cnv
vs0:data/external/webcore/data/icu/icudt40l/ibm-1130_P100-1997.cnv
vs0:data/external/webcore/data/icu/icudt40l/ibm-1131_P100-1997.cnv
vs0:data/external/webcore/data/icu/icudt40l/ibm-1132_P100-1998.cnv
vs0:data/external/webcore/data/icu/icudt40l/ibm-1133_P100-1997.cnv
vs0:data/external/webcore/data/icu/icudt40l/ibm-1137_P100-1999.cnv
vs0:data/external/webcore/data/icu/icudt40l/ibm-1140_P100-1997.cnv
vs0:data/external/webcore/data/icu/icudt40l/ibm-1141_P100-1997.cnv
vs0:data/external/webcore/data/icu/icudt40l/ibm-1142_P100-1997.cnv
vs0:data/external/webcore/data/icu/icudt40l/ibm-1143_P100-1997.cnv
vs0:data/external/webcore/data/icu/icudt40l/ibm-1144_P100-1997.cnv
vs0:data/external/webcore/data/icu/icudt40l/ibm-1145_P100-1997.cnv
vs0:data/external/webcore/data/icu/icudt40l/ibm-1146_P100-1997.cnv
vs0:data/external/webcore/data/icu/icudt40l/ibm-1147_P100-1997.cnv
vs0:data/external/webcore/data/icu/icudt40l/ibm-1148_P100-1997.cnv
vs0:data/external/webcore/data/icu/icudt40l/ibm-1149_P100-1997.cnv
vs0:data/external/webcore/data/icu/icudt40l/ibm-1153_P100-1999.cnv
vs0:data/external/webcore/data/icu/icudt40l/ibm-1154_P100-1999.cnv
vs0:data/external/webcore/data/icu/icudt40l/ibm-1155_P100-1999.cnv
vs0:data/external/webcore/data/icu/icudt40l/ibm-1156_P100-1999.cnv
vs0:data/external/webcore/data/icu/icudt40l/ibm-1157_P100-1999.cnv
vs0:data/external/webcore/data/icu/icudt40l/ibm-1158_P100-1999.cnv
vs0:data/external/webcore/data/icu/icudt40l/ibm-1160_P100-1999.cnv
vs0:data/external/webcore/data/icu/icudt40l/ibm-1162_P100-1999.cnv
vs0:data/external/webcore/data/icu/icudt40l/ibm-1164_P100-1999.cnv
vs0:data/external/webcore/data/icu/icudt40l/ibm-1168_P100-2002.cnv
vs0:data/external/webcore/data/icu/icudt40l/ibm-1250_P100-1995.cnv
vs0:data/external/webcore/data/icu/icudt40l/ibm-1251_P100-1995.cnv
vs0:data/external/webcore/data/icu/icudt40l/ibm-1252_P100-2000.cnv
vs0:data/external/webcore/data/icu/icudt40l/ibm-1253_P100-1995.cnv
vs0:data/external/webcore/data/icu/icudt40l/ibm-1254_P100-1995.cnv
vs0:data/external/webcore/data/icu/icudt40l/ibm-1255_P100-1995.cnv
vs0:data/external/webcore/data/icu/icudt40l/ibm-1256_P110-1997.cnv
vs0:data/external/webcore/data/icu/icudt40l/ibm-1257_P100-1995.cnv
vs0:data/external/webcore/data/icu/icudt40l/ibm-1258_P100-1997.cnv
vs0:data/external/webcore/data/icu/icudt40l/ibm-12712_P100-1998.cnv
vs0:data/external/webcore/data/icu/icudt40l/ibm-1276_P100-1995.cnv
vs0:data/external/webcore/data/icu/icudt40l/ibm-1363_P110-1997.cnv
vs0:data/external/webcore/data/icu/icudt40l/ibm-1363_P11B-1998.cnv
vs0:data/external/webcore/data/icu/icudt40l/ibm-1364_P110-2007.cnv
vs0:data/external/webcore/data/icu/icudt40l/ibm-1371_P100-1999.cnv
vs0:data/external/webcore/data/icu/icudt40l/ibm-1373_P100-2002.cnv
vs0:data/external/webcore/data/icu/icudt40l/ibm-1375_P100-2007.cnv
vs0:data/external/webcore/data/icu/icudt40l/ibm-1383_P110-1999.cnv
vs0:data/external/webcore/data/icu/icudt40l/ibm-1386_P100-2001.cnv
vs0:data/external/webcore/data/icu/icudt40l/ibm-1388_P103-2001.cnv
vs0:data/external/webcore/data/icu/icudt40l/ibm-1390_P110-2003.cnv
vs0:data/external/webcore/data/icu/icudt40l/ibm-1399_P110-2003.cnv
vs0:data/external/webcore/data/icu/icudt40l/ibm-16684_P110-2003.cnv
vs0:data/external/webcore/data/icu/icudt40l/ibm-16804_X110-1999.cnv
vs0:data/external/webcore/data/icu/icudt40l/ibm-273_P100-1995.cnv
vs0:data/external/webcore/data/icu/icudt40l/ibm-277_P100-1995.cnv
vs0:data/external/webcore/data/icu/icudt40l/ibm-278_P100-1995.cnv
vs0:data/external/webcore/data/icu/icudt40l/ibm-280_P100-1995.cnv
vs0:data/external/webcore/data/icu/icudt40l/ibm-284_P100-1995.cnv
vs0:data/external/webcore/data/icu/icudt40l/ibm-285_P100-1995.cnv
vs0:data/external/webcore/data/icu/icudt40l/ibm-290_P100-1995.cnv
vs0:data/external/webcore/data/icu/icudt40l/ibm-297_P100-1995.cnv
vs0:data/external/webcore/data/icu/icudt40l/ibm-33722_P120-1999.cnv
vs0:data/external/webcore/data/icu/icudt40l/ibm-33722_P12A_P12A-2004_U2.cnv
vs0:data/external/webcore/data/icu/icudt40l/ibm-37_P100-1995.cnv
vs0:data/external/webcore/data/icu/icudt40l/ibm-420_X120-1999.cnv
vs0:data/external/webcore/data/icu/icudt40l/ibm-424_P100-1995.cnv
vs0:data/external/webcore/data/icu/icudt40l/ibm-437_P100-1995.cnv
vs0:data/external/webcore/data/icu/icudt40l/ibm-4517_P100-2005.cnv
vs0:data/external/webcore/data/icu/icudt40l/ibm-4899_P100-1998.cnv
vs0:data/external/webcore/data/icu/icudt40l/ibm-4909_P100-1999.cnv
vs0:data/external/webcore/data/icu/icudt40l/ibm-4971_P100-1999.cnv
vs0:data/external/webcore/data/icu/icudt40l/ibm-500_P100-1995.cnv
vs0:data/external/webcore/data/icu/icudt40l/ibm-5012_P100-1999.cnv
vs0:data/external/webcore/data/icu/icudt40l/ibm-5123_P100-1999.cnv
vs0:data/external/webcore/data/icu/icudt40l/ibm-5346_P100-1998.cnv
vs0:data/external/webcore/data/icu/icudt40l/ibm-5347_P100-1998.cnv
vs0:data/external/webcore/data/icu/icudt40l/ibm-5348_P100-1997.cnv
vs0:data/external/webcore/data/icu/icudt40l/ibm-5349_P100-1998.cnv
vs0:data/external/webcore/data/icu/icudt40l/ibm-5350_P100-1998.cnv
vs0:data/external/webcore/data/icu/icudt40l/ibm-5351_P100-1998.cnv
vs0:data/external/webcore/data/icu/icudt40l/ibm-5352_P100-1998.cnv
vs0:data/external/webcore/data/icu/icudt40l/ibm-5353_P100-1998.cnv
vs0:data/external/webcore/data/icu/icudt40l/ibm-5354_P100-1998.cnv
vs0:data/external/webcore/data/icu/icudt40l/ibm-5471_P100-2006.cnv
vs0:data/external/webcore/data/icu/icudt40l/ibm-5478_P100-1995.cnv
vs0:data/external/webcore/data/icu/icudt40l/ibm-720_P100-1997.cnv
vs0:data/external/webcore/data/icu/icudt40l/ibm-737_P100-1997.cnv
vs0:data/external/webcore/data/icu/icudt40l/ibm-775_P100-1996.cnv
vs0:data/external/webcore/data/icu/icudt40l/ibm-803_P100-1999.cnv
vs0:data/external/webcore/data/icu/icudt40l/ibm-813_P100-1995.cnv
vs0:data/external/webcore/data/icu/icudt40l/ibm-838_P100-1995.cnv
vs0:data/external/webcore/data/icu/icudt40l/ibm-8482_P100-1999.cnv
vs0:data/external/webcore/data/icu/icudt40l/ibm-850_P100-1995.cnv
vs0:data/external/webcore/data/icu/icudt40l/ibm-851_P100-1995.cnv
vs0:data/external/webcore/data/icu/icudt40l/ibm-852_P100-1995.cnv
vs0:data/external/webcore/data/icu/icudt40l/ibm-855_P100-1995.cnv
vs0:data/external/webcore/data/icu/icudt40l/ibm-856_P100-1995.cnv
vs0:data/external/webcore/data/icu/icudt40l/ibm-857_P100-1995.cnv
vs0:data/external/webcore/data/icu/icudt40l/ibm-858_P100-1997.cnv
vs0:data/external/webcore/data/icu/icudt40l/ibm-860_P100-1995.cnv
vs0:data/external/webcore/data/icu/icudt40l/ibm-861_P100-1995.cnv
vs0:data/external/webcore/data/icu/icudt40l/ibm-862_P100-1995.cnv
vs0:data/external/webcore/data/icu/icudt40l/ibm-863_P100-1995.cnv
vs0:data/external/webcore/data/icu/icudt40l/ibm-864_X110-1999.cnv
vs0:data/external/webcore/data/icu/icudt40l/ibm-865_P100-1995.cnv
vs0:data/external/webcore/data/icu/icudt40l/ibm-866_P100-1995.cnv
vs0:data/external/webcore/data/icu/icudt40l/ibm-867_P100-1998.cnv
vs0:data/external/webcore/data/icu/icudt40l/ibm-868_P100-1995.cnv
vs0:data/external/webcore/data/icu/icudt40l/ibm-869_P100-1995.cnv
vs0:data/external/webcore/data/icu/icudt40l/ibm-870_P100-1995.cnv
vs0:data/external/webcore/data/icu/icudt40l/ibm-871_P100-1995.cnv
vs0:data/external/webcore/data/icu/icudt40l/ibm-874_P100-1995.cnv
vs0:data/external/webcore/data/icu/icudt40l/ibm-875_P100-1995.cnv
vs0:data/external/webcore/data/icu/icudt40l/ibm-878_P100-1996.cnv
vs0:data/external/webcore/data/icu/icudt40l/ibm-9005_X110-2007.cnv
vs0:data/external/webcore/data/icu/icudt40l/ibm-901_P100-1999.cnv
vs0:data/external/webcore/data/icu/icudt40l/ibm-902_P100-1999.cnv
vs0:data/external/webcore/data/icu/icudt40l/ibm-9067_X100-2005.cnv
vs0:data/external/webcore/data/icu/icudt40l/ibm-912_P100-1995.cnv
vs0:data/external/webcore/data/icu/icudt40l/ibm-913_P100-2000.cnv
vs0:data/external/webcore/data/icu/icudt40l/ibm-914_P100-1995.cnv
vs0:data/external/webcore/data/icu/icudt40l/ibm-915_P100-1995.cnv
vs0:data/external/webcore/data/icu/icudt40l/ibm-916_P100-1995.cnv
vs0:data/external/webcore/data/icu/icudt40l/ibm-918_P100-1995.cnv
vs0:data/external/webcore/data/icu/icudt40l/ibm-920_P100-1995.cnv
vs0:data/external/webcore/data/icu/icudt40l/ibm-921_P100-1995.cnv
vs0:data/external/webcore/data/icu/icudt40l/ibm-922_P100-1999.cnv
vs0:data/external/webcore/data/icu/icudt40l/ibm-923_P100-1998.cnv
vs0:data/external/webcore/data/icu/icudt40l/ibm-930_P120-1999.cnv
vs0:data/external/webcore/data/icu/icudt40l/ibm-933_P110-1995.cnv
vs0:data/external/webcore/data/icu/icudt40l/ibm-935_P110-1999.cnv
vs0:data/external/webcore/data/icu/icudt40l/ibm-937_P110-1999.cnv
vs0:data/external/webcore/data/icu/icudt40l/ibm-939_P120-1999.cnv
vs0:data/external/webcore/data/icu/icudt40l/ibm-942_P12A-1999.cnv
vs0:data/external/webcore/data/icu/icudt40l/ibm-943_P130-1999.cnv
vs0:data/external/webcore/data/icu/icudt40l/ibm-943_P15A-2003.cnv
vs0:data/external/webcore/data/icu/icudt40l/ibm-9447_P100-2002.cnv
vs0:data/external/webcore/data/icu/icudt40l/ibm-9448_X100-2005.cnv
vs0:data/external/webcore/data/icu/icudt40l/ibm-9449_P100-2002.cnv
vs0:data/external/webcore/data/icu/icudt40l/ibm-949_P110-1999.cnv
vs0:data/external/webcore/data/icu/icudt40l/ibm-949_P11A-1999.cnv
vs0:data/external/webcore/data/icu/icudt40l/ibm-950_P110-1999.cnv
vs0:data/external/webcore/data/icu/icudt40l/ibm-954_P101-2007.cnv
vs0:data/external/webcore/data/icu/icudt40l/ibm-964_P110-1999.cnv
vs0:data/external/webcore/data/icu/icudt40l/ibm-970_P110_P110-2006_U2.cnv
vs0:data/external/webcore/data/icu/icudt40l/ibm-971_P100-1995.cnv
vs0:data/external/webcore/data/icu/icudt40l/icu-internal-25546.cnv
vs0:data/external/webcore/data/icu/icudt40l/invuca.icu
vs0:data/external/webcore/data/icu/icudt40l/iso-8859_10-1998.cnv
vs0:data/external/webcore/data/icu/icudt40l/iso-8859_11-2001.cnv
vs0:data/external/webcore/data/icu/icudt40l/iso-8859_14-1998.cnv
vs0:data/external/webcore/data/icu/icudt40l/iso-ir-165.cnv
vs0:data/external/webcore/data/icu/icudt40l/jisx-212.cnv
vs0:data/external/webcore/data/icu/icudt40l/lmb-excp.cnv
vs0:data/external/webcore/data/icu/icudt40l/macos-0_2-10.2.cnv
vs0:data/external/webcore/data/icu/icudt40l/macos-29-10.2.cnv
vs0:data/external/webcore/data/icu/icudt40l/macos-35-10.2.cnv
vs0:data/external/webcore/data/icu/icudt40l/macos-6_2-10.4.cnv
vs0:data/external/webcore/data/icu/icudt40l/macos-7_3-10.2.cnv
vs0:data/external/webcore/data/icu/icudt40l/pnames.icu
vs0:data/external/webcore/data/icu/icudt40l/ucadata.icu
vs0:data/external/webcore/data/icu/icudt40l/uidna.spp
vs0:data/external/webcore/data/icu/icudt40l/windows-874-2000.cnv
vs0:data/external/webcore/data/icu/icudt40l/windows-936-2000.cnv
vs0:data/external/webcore/data/icu/icudt40l/windows-949-2000.cnv
vs0:data/external/webcore/data/icu/icudt40l/windows-950-2000.cnv
vs0:data/external/webcore/data/webcoreapp.bin
vs0:data/external/webcore/etc/fontinfo-Hydra.xml
vs0:data/external/webcore/etc/html.css
vs0:data/external/webcore/etc/quirk.css
vs0:data/external/webcore/jx_web_filtering.suprx
vs0:data/external/webcore/lib/Plugins
vs0:data/external/webcore/mapview/image/bg/map_background.png
vs0:data/external/webcore/mapview/image/bookmark/Map_Bookmark.png
vs0:data/external/webcore/mapview/image/bookmark/Map_Bookmark_shadow.png
vs0:data/external/webcore/mapview/image/direction/Map_corn_circle.png
vs0:data/external/webcore/mapview/image/flags/Dummy.png
vs0:data/external/webcore/mapview/image/flags/Map_Circle_Purple.png
vs0:data/external/webcore/mapview/image/flags/Map_Flag_Purple.png
vs0:data/external/webcore/mapview/image/flags/Map_Flag_goal.png
vs0:data/external/webcore/mapview/image/flags/Map_Flag_red.png
vs0:data/external/webcore/mapview/image/flags/Map_Flag_shadow.png
vs0:data/external/webcore/mapview/image/flags/Map_Flag_shadow_square.png
vs0:data/external/webcore/mapview/image/flags/Map_Flag_start.png
vs0:data/external/webcore/mapview/image/flags/Select_Circle_Red_circle.png
vs0:data/external/webcore/mapview/image/navigation/Map_Mode_compass.png
vs0:data/external/webcore/mapview/image/navigation/Map_location_circle.png
vs0:data/external/webcore/mapview/libjs/default.css
vs0:data/external/webcore/mapview/libjs/google_maps_adapter_lib_version_0_1.js
vs0:data/external/webcore/mapview/libjs/google_maps_version_3_0.js
vs0:data/external/webcore/mapview/libjs/main.js
vs0:data/external/webcore/mapview/libjs/standard.css
vs0:data/external/webcore/mapview/loadmapview.htm
vs0:data/external/webcore/remote-web-inspector/css/inspectorManx.css
vs0:data/external/webcore/remote-web-inspector/css/remote-web-inspector.css
vs0:data/external/webcore/remote-web-inspector/external/inspector/Inspector.json
vs0:data/external/webcore/remote-web-inspector/external/inspector/front-end/AuditsPanel.js
vs0:data/external/webcore/remote-web-inspector/external/inspector/front-end/CodeMirrorTextEditor.js
vs0:data/external/webcore/remote-web-inspector/external/inspector/front-end/ElementsPanel.js
vs0:data/external/webcore/remote-web-inspector/external/inspector/front-end/Images/addIcon.png
vs0:data/external/webcore/remote-web-inspector/external/inspector/front-end/Images/applicationCache.png
vs0:data/external/webcore/remote-web-inspector/external/inspector/front-end/Images/back.png
vs0:data/external/webcore/remote-web-inspector/external/inspector/front-end/Images/breakpointBorder.png
vs0:data/external/webcore/remote-web-inspector/external/inspector/front-end/Images/breakpointConditionalBorder.png
vs0:data/external/webcore/remote-web-inspector/external/inspector/front-end/Images/breakpointConditionalCounterBorder.png
vs0:data/external/webcore/remote-web-inspector/external/inspector/front-end/Images/breakpointCounterBorder.png
vs0:data/external/webcore/remote-web-inspector/external/inspector/front-end/Images/checker.png
vs0:data/external/webcore/remote-web-inspector/external/inspector/front-end/Images/closeButtons.png
vs0:data/external/webcore/remote-web-inspector/external/inspector/front-end/Images/cookie.png
vs0:data/external/webcore/remote-web-inspector/external/inspector/front-end/Images/database.png
vs0:data/external/webcore/remote-web-inspector/external/inspector/front-end/Images/databaseTable.png
vs0:data/external/webcore/remote-web-inspector/external/inspector/front-end/Images/debuggerContinue.png
vs0:data/external/webcore/remote-web-inspector/external/inspector/front-end/Images/debuggerPause.png
vs0:data/external/webcore/remote-web-inspector/external/inspector/front-end/Images/debuggerStepInto.png
vs0:data/external/webcore/remote-web-inspector/external/inspector/front-end/Images/debuggerStepOut.png
vs0:data/external/webcore/remote-web-inspector/external/inspector/front-end/Images/debuggerStepOver.png
vs0:data/external/webcore/remote-web-inspector/external/inspector/front-end/Images/deleteIcon.png
vs0:data/external/webcore/remote-web-inspector/external/inspector/front-end/Images/disclosureTriangleSmallDown.png
vs0:data/external/webcore/remote-web-inspector/external/inspector/front-end/Images/disclosureTriangleSmallDownBlack.png
vs0:data/external/webcore/remote-web-inspector/external/inspector/front-end/Images/disclosureTriangleSmallDownWhite.png
vs0:data/external/webcore/remote-web-inspector/external/inspector/front-end/Images/disclosureTriangleSmallRight.png
vs0:data/external/webcore/remote-web-inspector/external/inspector/front-end/Images/disclosureTriangleSmallRightBlack.png
vs0:data/external/webcore/remote-web-inspector/external/inspector/front-end/Images/disclosureTriangleSmallRightDown.png
vs0:data/external/webcore/remote-web-inspector/external/inspector/front-end/Images/disclosureTriangleSmallRightDownBlack.png
vs0:data/external/webcore/remote-web-inspector/external/inspector/front-end/Images/disclosureTriangleSmallRightDownWhite.png
vs0:data/external/webcore/remote-web-inspector/external/inspector/front-end/Images/disclosureTriangleSmallRightWhite.png
vs0:data/external/webcore/remote-web-inspector/external/inspector/front-end/Images/domain.png
vs0:data/external/webcore/remote-web-inspector/external/inspector/front-end/Images/errorIcon.png
vs0:data/external/webcore/remote-web-inspector/external/inspector/front-end/Images/errorMediumIcon.png
vs0:data/external/webcore/remote-web-inspector/external/inspector/front-end/Images/errorRedDot.png
vs0:data/external/webcore/remote-web-inspector/external/inspector/front-end/Images/fileSystem.png
vs0:data/external/webcore/remote-web-inspector/external/inspector/front-end/Images/forward.png
vs0:data/external/webcore/remote-web-inspector/external/inspector/front-end/Images/frame.png
vs0:data/external/webcore/remote-web-inspector/external/inspector/front-end/Images/glossyHeader.png
vs0:data/external/webcore/remote-web-inspector/external/inspector/front-end/Images/glossyHeaderPressed.png
vs0:data/external/webcore/remote-web-inspector/external/inspector/front-end/Images/glossyHeaderSelected.png
vs0:data/external/webcore/remote-web-inspector/external/inspector/front-end/Images/glossyHeaderSelectedPressed.png
vs0:data/external/webcore/remote-web-inspector/external/inspector/front-end/Images/goArrow.png
vs0:data/external/webcore/remote-web-inspector/external/inspector/front-end/Images/graphLabelCalloutLeft.png
vs0:data/external/webcore/remote-web-inspector/external/inspector/front-end/Images/graphLabelCalloutRight.png
vs0:data/external/webcore/remote-web-inspector/external/inspector/front-end/Images/indexedDB.png
vs0:data/external/webcore/remote-web-inspector/external/inspector/front-end/Images/indexedDBIndex.png
vs0:data/external/webcore/remote-web-inspector/external/inspector/front-end/Images/indexedDBObjectStore.png
vs0:data/external/webcore/remote-web-inspector/external/inspector/front-end/Images/localStorage.png
vs0:data/external/webcore/remote-web-inspector/external/inspector/front-end/Images/namedFlowOverflow.png
vs0:data/external/webcore/remote-web-inspector/external/inspector/front-end/Images/navigatorShowHideButton.png
vs0:data/external/webcore/remote-web-inspector/external/inspector/front-end/Images/paneAddButtons.png
vs0:data/external/webcore/remote-web-inspector/external/inspector/front-end/Images/paneBottomGrow.png
vs0:data/external/webcore/remote-web-inspector/external/inspector/front-end/Images/paneBottomGrowActive.png
vs0:data/external/webcore/remote-web-inspector/external/inspector/front-end/Images/paneElementStateButtons.png
vs0:data/external/webcore/remote-web-inspector/external/inspector/front-end/Images/paneFilterButtons.png
vs0:data/external/webcore/remote-web-inspector/external/inspector/front-end/Images/paneGrowHandleLine.png
vs0:data/external/webcore/remote-web-inspector/external/inspector/front-end/Images/paneRefreshButtons.png
vs0:data/external/webcore/remote-web-inspector/external/inspector/front-end/Images/paneSettingsButtons.png
vs0:data/external/webcore/remote-web-inspector/external/inspector/front-end/Images/popoverArrows.png
vs0:data/external/webcore/remote-web-inspector/external/inspector/front-end/Images/popoverBackground.png
vs0:data/external/webcore/remote-web-inspector/external/inspector/front-end/Images/profileGroupIcon.png
vs0:data/external/webcore/remote-web-inspector/external/inspector/front-end/Images/profileIcon.png
vs0:data/external/webcore/remote-web-inspector/external/inspector/front-end/Images/profileSmallIcon.png
vs0:data/external/webcore/remote-web-inspector/external/inspector/front-end/Images/profilesSilhouette.png
vs0:data/external/webcore/remote-web-inspector/external/inspector/front-end/Images/programCounterBorder.png
vs0:data/external/webcore/remote-web-inspector/external/inspector/front-end/Images/radioDot.png
vs0:data/external/webcore/remote-web-inspector/external/inspector/front-end/Images/regionEmpty.png
vs0:data/external/webcore/remote-web-inspector/external/inspector/front-end/Images/regionFit.png
vs0:data/external/webcore/remote-web-inspector/external/inspector/front-end/Images/regionOverset.png
vs0:data/external/webcore/remote-web-inspector/external/inspector/front-end/Images/resourceCSSIcon.png
vs0:data/external/webcore/remote-web-inspector/external/inspector/front-end/Images/resourceDocumentIcon.png
vs0:data/external/webcore/remote-web-inspector/external/inspector/front-end/Images/resourceDocumentIconSmall.png
vs0:data/external/webcore/remote-web-inspector/external/inspector/front-end/Images/resourceJSIcon.png
vs0:data/external/webcore/remote-web-inspector/external/inspector/front-end/Images/resourcePlainIcon.png
vs0:data/external/webcore/remote-web-inspector/external/inspector/front-end/Images/resourcePlainIconSmall.png
vs0:data/external/webcore/remote-web-inspector/external/inspector/front-end/Images/resourcesSizeGraphIcon.png
vs0:data/external/webcore/remote-web-inspector/external/inspector/front-end/Images/resourcesTimeGraphIcon.png
vs0:data/external/webcore/remote-web-inspector/external/inspector/front-end/Images/scriptsSilhouette.png
vs0:data/external/webcore/remote-web-inspector/external/inspector/front-end/Images/searchNext.png
vs0:data/external/webcore/remote-web-inspector/external/inspector/front-end/Images/searchPrev.png
vs0:data/external/webcore/remote-web-inspector/external/inspector/front-end/Images/searchSmallBlue.png
vs0:data/external/webcore/remote-web-inspector/external/inspector/front-end/Images/searchSmallBrightBlue.png
vs0:data/external/webcore/remote-web-inspector/external/inspector/front-end/Images/searchSmallGray.png
vs0:data/external/webcore/remote-web-inspector/external/inspector/front-end/Images/searchSmallWhite.png
vs0:data/external/webcore/remote-web-inspector/external/inspector/front-end/Images/segment.png
vs0:data/external/webcore/remote-web-inspector/external/inspector/front-end/Images/segmentEnd.png
vs0:data/external/webcore/remote-web-inspector/external/inspector/front-end/Images/segmentHover.png
vs0:data/external/webcore/remote-web-inspector/external/inspector/front-end/Images/segmentHoverEnd.png
vs0:data/external/webcore/remote-web-inspector/external/inspector/front-end/Images/segmentSelected.png
vs0:data/external/webcore/remote-web-inspector/external/inspector/front-end/Images/segmentSelectedEnd.png
vs0:data/external/webcore/remote-web-inspector/external/inspector/front-end/Images/sessionStorage.png
vs0:data/external/webcore/remote-web-inspector/external/inspector/front-end/Images/spinner.gif
vs0:data/external/webcore/remote-web-inspector/external/inspector/front-end/Images/spinnerActive.gif
vs0:data/external/webcore/remote-web-inspector/external/inspector/front-end/Images/spinnerActiveSelected.gif
vs0:data/external/webcore/remote-web-inspector/external/inspector/front-end/Images/spinnerInactive.gif
vs0:data/external/webcore/remote-web-inspector/external/inspector/front-end/Images/spinnerInactiveSelected.gif
vs0:data/external/webcore/remote-web-inspector/external/inspector/front-end/Images/splitviewDimple.png
vs0:data/external/webcore/remote-web-inspector/external/inspector/front-end/Images/splitviewDividerBackground.png
vs0:data/external/webcore/remote-web-inspector/external/inspector/front-end/Images/statusbarButtonGlyphs.png
vs0:data/external/webcore/remote-web-inspector/external/inspector/front-end/Images/statusbarButtonGlyphs2x.png
vs0:data/external/webcore/remote-web-inspector/external/inspector/front-end/Images/statusbarResizerHorizontal.png
vs0:data/external/webcore/remote-web-inspector/external/inspector/front-end/Images/statusbarResizerVertical.png
vs0:data/external/webcore/remote-web-inspector/external/inspector/front-end/Images/successGreenDot.png
vs0:data/external/webcore/remote-web-inspector/external/inspector/front-end/Images/thumbActiveHoriz.png
vs0:data/external/webcore/remote-web-inspector/external/inspector/front-end/Images/thumbActiveVert.png
vs0:data/external/webcore/remote-web-inspector/external/inspector/front-end/Images/thumbHoriz.png
vs0:data/external/webcore/remote-web-inspector/external/inspector/front-end/Images/thumbHoverHoriz.png
vs0:data/external/webcore/remote-web-inspector/external/inspector/front-end/Images/thumbHoverVert.png
vs0:data/external/webcore/remote-web-inspector/external/inspector/front-end/Images/thumbVert.png
vs0:data/external/webcore/remote-web-inspector/external/inspector/front-end/Images/tickMark.png
vs0:data/external/webcore/remote-web-inspector/external/inspector/front-end/Images/timelineHollowPillBlue.png
vs0:data/external/webcore/remote-web-inspector/external/inspector/front-end/Images/timelineHollowPillGray.png
vs0:data/external/webcore/remote-web-inspector/external/inspector/front-end/Images/timelineHollowPillGreen.png
vs0:data/external/webcore/remote-web-inspector/external/inspector/front-end/Images/timelineHollowPillOrange.png
vs0:data/external/webcore/remote-web-inspector/external/inspector/front-end/Images/timelineHollowPillPurple.png
vs0:data/external/webcore/remote-web-inspector/external/inspector/front-end/Images/timelineHollowPillRed.png
vs0:data/external/webcore/remote-web-inspector/external/inspector/front-end/Images/timelineHollowPillYellow.png
vs0:data/external/webcore/remote-web-inspector/external/inspector/front-end/Images/timelinePillBlue.png
vs0:data/external/webcore/remote-web-inspector/external/inspector/front-end/Images/timelinePillGray.png
vs0:data/external/webcore/remote-web-inspector/external/inspector/front-end/Images/timelinePillGreen.png
vs0:data/external/webcore/remote-web-inspector/external/inspector/front-end/Images/timelinePillOrange.png
vs0:data/external/webcore/remote-web-inspector/external/inspector/front-end/Images/timelinePillPurple.png
vs0:data/external/webcore/remote-web-inspector/external/inspector/front-end/Images/timelinePillRed.png
vs0:data/external/webcore/remote-web-inspector/external/inspector/front-end/Images/timelinePillYellow.png
vs0:data/external/webcore/remote-web-inspector/external/inspector/front-end/Images/toolbarIcons.png
vs0:data/external/webcore/remote-web-inspector/external/inspector/front-end/Images/toolbarIconsSmall.png
vs0:data/external/webcore/remote-web-inspector/external/inspector/front-end/Images/toolbarItemSelected.png
vs0:data/external/webcore/remote-web-inspector/external/inspector/front-end/Images/trackHoriz.png
vs0:data/external/webcore/remote-web-inspector/external/inspector/front-end/Images/trackVert.png
vs0:data/external/webcore/remote-web-inspector/external/inspector/front-end/Images/treeDownTriangleBlack.png
vs0:data/external/webcore/remote-web-inspector/external/inspector/front-end/Images/treeDownTriangleWhite.png
vs0:data/external/webcore/remote-web-inspector/external/inspector/front-end/Images/treeRightTriangleBlack.png
vs0:data/external/webcore/remote-web-inspector/external/inspector/front-end/Images/treeRightTriangleWhite.png
vs0:data/external/webcore/remote-web-inspector/external/inspector/front-end/Images/treeUpTriangleBlack.png
vs0:data/external/webcore/remote-web-inspector/external/inspector/front-end/Images/treeUpTriangleWhite.png
vs0:data/external/webcore/remote-web-inspector/external/inspector/front-end/Images/userInputIcon.png
vs0:data/external/webcore/remote-web-inspector/external/inspector/front-end/Images/userInputPreviousIcon.png
vs0:data/external/webcore/remote-web-inspector/external/inspector/front-end/Images/userInputResultIcon.png
vs0:data/external/webcore/remote-web-inspector/external/inspector/front-end/Images/warningIcon.png
vs0:data/external/webcore/remote-web-inspector/external/inspector/front-end/Images/warningMediumIcon.png
vs0:data/external/webcore/remote-web-inspector/external/inspector/front-end/Images/warningOrangeDot.png
vs0:data/external/webcore/remote-web-inspector/external/inspector/front-end/Images/warningsErrors.png
vs0:data/external/webcore/remote-web-inspector/external/inspector/front-end/NetworkPanel.js
vs0:data/external/webcore/remote-web-inspector/external/inspector/front-end/ProfilesPanel.js
vs0:data/external/webcore/remote-web-inspector/external/inspector/front-end/ResourcesPanel.js
vs0:data/external/webcore/remote-web-inspector/external/inspector/front-end/ScriptFormatterWorker.js
vs0:data/external/webcore/remote-web-inspector/external/inspector/front-end/ScriptsPanel.js
vs0:data/external/webcore/remote-web-inspector/external/inspector/front-end/TimelinePanel.js
vs0:data/external/webcore/remote-web-inspector/external/inspector/front-end/UglifyJS/parse-js.js
vs0:data/external/webcore/remote-web-inspector/external/inspector/front-end/auditsPanel.css
vs0:data/external/webcore/remote-web-inspector/external/inspector/front-end/breadcrumbList.css
vs0:data/external/webcore/remote-web-inspector/external/inspector/front-end/breakpointsList.css
vs0:data/external/webcore/remote-web-inspector/external/inspector/front-end/canvasProfiler.css
vs0:data/external/webcore/remote-web-inspector/external/inspector/front-end/cm/LICENSE
vs0:data/external/webcore/remote-web-inspector/external/inspector/front-end/cm/closebrackets.js
vs0:data/external/webcore/remote-web-inspector/external/inspector/front-end/cm/cmdevtools.css
vs0:data/external/webcore/remote-web-inspector/external/inspector/front-end/cm/codemirror.css
vs0:data/external/webcore/remote-web-inspector/external/inspector/front-end/cm/codemirror.js
vs0:data/external/webcore/remote-web-inspector/external/inspector/front-end/cm/css.js
vs0:data/external/webcore/remote-web-inspector/external/inspector/front-end/cm/htmlmixed.js
vs0:data/external/webcore/remote-web-inspector/external/inspector/front-end/cm/javascript.js
vs0:data/external/webcore/remote-web-inspector/external/inspector/front-end/cm/matchbrackets.js
vs0:data/external/webcore/remote-web-inspector/external/inspector/front-end/cm/xml.js
vs0:data/external/webcore/remote-web-inspector/external/inspector/front-end/cssNamedFlows.css
vs0:data/external/webcore/remote-web-inspector/external/inspector/front-end/dataGrid.css
vs0:data/external/webcore/remote-web-inspector/external/inspector/front-end/dialog.css
vs0:data/external/webcore/remote-web-inspector/external/inspector/front-end/elementsPanel.css
vs0:data/external/webcore/remote-web-inspector/external/inspector/front-end/filteredItemSelectionDialog.css
vs0:data/external/webcore/remote-web-inspector/external/inspector/front-end/flameChart.css
vs0:data/external/webcore/remote-web-inspector/external/inspector/front-end/heapProfiler.css
vs0:data/external/webcore/remote-web-inspector/external/inspector/front-end/helpScreen.css
vs0:data/external/webcore/remote-web-inspector/external/inspector/front-end/indexedDBViews.css
vs0:data/external/webcore/remote-web-inspector/external/inspector/front-end/inspector.css
vs0:data/external/webcore/remote-web-inspector/external/inspector/front-end/inspector.html
vs0:data/external/webcore/remote-web-inspector/external/inspector/front-end/inspector.js
vs0:data/external/webcore/remote-web-inspector/external/inspector/front-end/inspectorCommon.css
vs0:data/external/webcore/remote-web-inspector/external/inspector/front-end/inspectorSyntaxHighlight.css
vs0:data/external/webcore/remote-web-inspector/external/inspector/front-end/navigatorView.css
vs0:data/external/webcore/remote-web-inspector/external/inspector/front-end/networkLogView.css
vs0:data/external/webcore/remote-web-inspector/external/inspector/front-end/networkPanel.css
vs0:data/external/webcore/remote-web-inspector/external/inspector/front-end/panelEnablerView.css
vs0:data/external/webcore/remote-web-inspector/external/inspector/front-end/popover.css
vs0:data/external/webcore/remote-web-inspector/external/inspector/front-end/profilesPanel.css
vs0:data/external/webcore/remote-web-inspector/external/inspector/front-end/resourceView.css
vs0:data/external/webcore/remote-web-inspector/external/inspector/front-end/resourcesPanel.css
vs0:data/external/webcore/remote-web-inspector/external/inspector/front-end/revisionHistory.css
vs0:data/external/webcore/remote-web-inspector/external/inspector/front-end/scriptsPanel.css
vs0:data/external/webcore/remote-web-inspector/external/inspector/front-end/sidebarPane.css
vs0:data/external/webcore/remote-web-inspector/external/inspector/front-end/spectrum.css
vs0:data/external/webcore/remote-web-inspector/external/inspector/front-end/splitView.css
vs0:data/external/webcore/remote-web-inspector/external/inspector/front-end/tabbedPane.css
vs0:data/external/webcore/remote-web-inspector/external/inspector/front-end/textEditor.css
vs0:data/external/webcore/remote-web-inspector/external/inspector/front-end/textPrompt.css
vs0:data/external/webcore/remote-web-inspector/external/inspector/front-end/timelinePanel.css
vs0:data/external/webcore/remote-web-inspector/externald
vs0:data/external/webcore/remote-web-inspector/header.png
vs0:data/external/webcore/remote-web-inspector/inspector.html
vs0:data/external/webcore/remote-web-inspector/js/ExtensionAdapter.js
vs0:data/external/webcore/remote-web-inspector/js/Path.js
vs0:data/external/webcore/remote-web-inspector/js/RemoteWebInspector.js
vs0:data/external/webcore/remote-web-inspector/js/externs.js
vs0:data/external/webcore/silk.suprx
vs0:data/external/webcore/silk_base.suprx
vs0:data/external/webcore/silk_mrcommon.suprx
vs0:data/external/webcore/silk_mrserver.suprx
vs0:data/external/webcore/silk_webkit.suprx
vs0:data/external/webcore/theme/button/button_focus.png
vs0:data/external/webcore/theme/button/button_hover.png
vs0:data/external/webcore/theme/button/button_normal.png
vs0:data/external/webcore/theme/button/button_press.png
vs0:data/external/webcore/theme/checkbox/checkbox_off_focus.png
vs0:data/external/webcore/theme/checkbox/checkbox_off_hover.png
vs0:data/external/webcore/theme/checkbox/checkbox_off_normal.png
vs0:data/external/webcore/theme/checkbox/checkbox_on_focus.png
vs0:data/external/webcore/theme/checkbox/checkbox_on_hover.png
vs0:data/external/webcore/theme/checkbox/checkbox_on_normal.png
vs0:data/external/webcore/theme/menulist/menulist_focus.png
vs0:data/external/webcore/theme/menulist/menulist_hover.png
vs0:data/external/webcore/theme/menulist/menulist_normal.png
vs0:data/external/webcore/theme/menulist/menulist_press.png
vs0:data/external/webcore/theme/mouse/mouse_cursor_hover.png
vs0:data/external/webcore/theme/mouse/mouse_cursor_hover2.png
vs0:data/external/webcore/theme/mouse/mouse_cursor_input.png
vs0:data/external/webcore/theme/mouse/mouse_cursor_normal.png
vs0:data/external/webcore/theme/popupmenu/popupmenu_background.png
vs0:data/external/webcore/theme/popupmenu/popupmenu_highlight.png
vs0:data/external/webcore/theme/radio/radio_off_focus.png
vs0:data/external/webcore/theme/radio/radio_off_hover.png
vs0:data/external/webcore/theme/radio/radio_off_normal.png
vs0:data/external/webcore/theme/radio/radio_on_focus.png
vs0:data/external/webcore/theme/radio/radio_on_hover.png
vs0:data/external/webcore/theme/radio/radio_on_normal.png
vs0:data/external/webcore/theme/scrollbar/scrollbar_background.png
vs0:data/external/webcore/theme/scrollbar/scrollbar_button_hover.png
vs0:data/external/webcore/theme/scrollbar/scrollbar_button_normal.png
vs0:data/external/webcore/theme/scrollbar/scrollbar_button_press.png
vs0:data/external/webcore/theme/scrollbar/scrollbar_down_button_hover.png
vs0:data/external/webcore/theme/scrollbar/scrollbar_down_button_normal.png
vs0:data/external/webcore/theme/scrollbar/scrollbar_down_button_press.png
vs0:data/external/webcore/theme/scrollbar/scrollbar_up_button_hover.png
vs0:data/external/webcore/theme/scrollbar/scrollbar_up_button_normal.png
vs0:data/external/webcore/theme/scrollbar/scrollbar_up_button_press.png
vs0:data/external/webcore/vita_jsextobj.suprx
vs0:data/external/webcore/webcore.suprx
vs0:data/external/webcore/webcore_server.suprx
vs0:data/external/widget
vs0:data/internal/bgm/shell
vs0:data/internal/effects/earth/psets
vs0:data/internal/effects/earth/textures/earth_spec_01.dds
vs0:data/internal/effects/earth/textures/rainbow.dds
vs0:data/internal/effects/page_turn/psets
vs0:data/internal/effects/page_turn/textures/page_corner.dds
vs0:data/internal/effects/panel/psets
vs0:data/internal/effects/particles/pattern1/psets
vs0:data/internal/effects/particles/pattern2/psets
vs0:data/internal/effects/particles/textures/palette.dds
vs0:data/internal/effects/particles/textures/proc_iridescent.dds
vs0:data/internal/effects/wave/psets
vs0:data/internal/icon/parental_lock.png
vs0:data/internal/icon/power.png
vs0:data/internal/keylock/keylock.png
vs0:data/internal/launch/list_launch_emu.dat                                  http://vitacl.ww.dl.playstation.net/vitacl/ww/j/list_launch_emu.dat          / http://vitacl.ww.dl.playstation.net/vitacl/xx/j/list_launch_emu.dat
vs0:data/internal/launch/list_launch_teleport.dat                             ? http://vitacl.ww.dl.playstation.net/vitacl/ww/j/list_launch_teleport.dat ? / http://vitacl.ww.dl.playstation.net/vitacl/xx/j/list_launch_teleport.dat
vs0:data/internal/launch/list_launch_vita.dat                                 http://vitacl.ww.dl.playstation.net/vitacl/ww/j/list_launch_vita.dat         / http://vitacl.ww.dl.playstation.net/vitacl/xx/j/list_launch_vita.dat
vs0:data/internal/launch/version_launch.dat                                   http://vitacl.ww.dl.playstation.net/vitacl/ww/j/version_launch.dat           / http://vitacl.ww.dl.playstation.net/vitacl/xx/j/version_launch.dat
vs0:data/internal/livearea/default/sce_sys/icon0.png
vs0:data/internal/livearea/default/sce_sys/livearea/contents/bg0.png
vs0:data/internal/livearea/default/sce_sys/livearea/contents/template.xml
vs0:data/internal/livearea/safebg.png
vs0:data/internal/theme/defaultTheme_homeScreen.png
vs0:data/internal/theme/defaultTheme_startScreen.png
vs0:data/internal/theme/theme_defaultImage.png
vs0:sys/external/activity_db.suprx
vs0:sys/external/adhoc_matching.suprx
vs0:sys/external/apputil.suprx
vs0:sys/external/apputil_ext.suprx
vs0:sys/external/audiocodec.suprx
vs0:sys/external/avcdec_for_player.suprx
vs0:sys/external/bXCe.suprx
vs0:sys/external/bgapputil.suprx
vs0:sys/external/common_gui_dialog.suprx
vs0:sys/external/dbrecovery_utility.suprx
vs0:sys/external/dbutil.suprx
vs0:sys/external/friend_select.suprx
vs0:sys/external/incoming_dialog.suprx
vs0:sys/external/ini_file_processor.suprx
vs0:sys/external/libSceBeisobmf.suprx
vs0:sys/external/libSceBemp2sys.suprx
vs0:sys/external/libSceCompanionUtil.suprx
vs0:sys/external/libSceDtcpIp.suprx
vs0:sys/external/libSceFt2.suprx
vs0:sys/external/libSceJson.suprx
vs0:sys/external/libSceMp4Rec.suprx
vs0:sys/external/libSceMusicExport.suprx
vs0:sys/external/libSceNearDialogUtil.suprx
vs0:sys/external/libSceNearUtil.suprx
vs0:sys/external/libScePhotoExport.suprx
vs0:sys/external/libScePromoterUtil.suprx
vs0:sys/external/libSceScreenShot.suprx
vs0:sys/external/libSceShutterSound.suprx
vs0:sys/external/libSceSqlite.suprx
vs0:sys/external/libSceTelephonyUtil.suprx
vs0:sys/external/libSceTeleportClient.suprx
vs0:sys/external/libSceTeleportServer.suprx
vs0:sys/external/libSceVideoExport.suprx
vs0:sys/external/libSceVideoSearchEmpr.suprx
vs0:sys/external/libSceXml.suprx
vs0:sys/external/libatrac.suprx
vs0:sys/external/libc.suprx
vs0:sys/external/libcdlg.suprx
vs0:sys/external/libcdlg_calendar_review.suprx
vs0:sys/external/libcdlg_cameraimport.suprx
vs0:sys/external/libcdlg_checkout.suprx
vs0:sys/external/libcdlg_companion.suprx
vs0:sys/external/libcdlg_compat.suprx
vs0:sys/external/libcdlg_cross_controller.suprx
vs0:sys/external/libcdlg_friendlist.suprx
vs0:sys/external/libcdlg_friendlist2.suprx
vs0:sys/external/libcdlg_game_custom_data.suprx
vs0:sys/external/libcdlg_game_custom_data_impl.suprx
vs0:sys/external/libcdlg_ime.suprx
vs0:sys/external/libcdlg_invitation.suprx
vs0:sys/external/libcdlg_invitation_impl.suprx
vs0:sys/external/libcdlg_main.suprx
vs0:sys/external/libcdlg_msg.suprx
vs0:sys/external/libcdlg_near.suprx
vs0:sys/external/libcdlg_netcheck.suprx
vs0:sys/external/libcdlg_np_message.suprx
vs0:sys/external/libcdlg_np_sns_fb.suprx
vs0:sys/external/libcdlg_np_trophy_setup.suprx
vs0:sys/external/libcdlg_npeula.suprx
vs0:sys/external/libcdlg_npprofile2.suprx
vs0:sys/external/libcdlg_photoimport.suprx
vs0:sys/external/libcdlg_photoreview.suprx
vs0:sys/external/libcdlg_pocketstation.suprx
vs0:sys/external/libcdlg_remote_osk.suprx
vs0:sys/external/libcdlg_savedata.suprx
vs0:sys/external/libcdlg_tw_login.suprx
vs0:sys/external/libcdlg_twitter.suprx
vs0:sys/external/libclipboard.suprx
vs0:sys/external/libdbg.suprx
vs0:sys/external/libfiber.suprx
vs0:sys/external/libfios2.suprx
vs0:sys/external/libg729.suprx
vs0:sys/external/libgameupdate.suprx
vs0:sys/external/libhandwriting.suprx
vs0:sys/external/libhttp.suprx
vs0:sys/external/libime.suprx
vs0:sys/external/libipmi_nongame.suprx
vs0:sys/external/liblocation.suprx
vs0:sys/external/liblocation_extension.suprx
vs0:sys/external/liblocation_factory.suprx
vs0:sys/external/liblocation_internal.suprx
vs0:sys/external/libmln.suprx
vs0:sys/external/libmlnapplib.suprx
vs0:sys/external/libmlndownloader.suprx
vs0:sys/external/libnaac.suprx
vs0:sys/external/libnet.suprx
vs0:sys/external/libnetctl.suprx
vs0:sys/external/libngs.suprx
vs0:sys/external/libpaf.suprx
vs0:sys/external/libpaf_web_map_view.suprx
vs0:sys/external/libperf.suprx
vs0:sys/external/libpgf.suprx
vs0:sys/external/libpvf.suprx
vs0:sys/external/librudp.suprx
vs0:sys/external/libsas.suprx
vs0:sys/external/libsceavplayer.suprx
vs0:sys/external/libscejpegarm.suprx
vs0:sys/external/libscejpegencarm.suprx
vs0:sys/external/libscemp4.suprx
vs0:sys/external/libshellsvc.suprx
vs0:sys/external/libssl.suprx
vs0:sys/external/libsulpha.suprx
vs0:sys/external/libsystemgesture.suprx
vs0:sys/external/libult.suprx
vs0:sys/external/libvoice.suprx
vs0:sys/external/libvoiceqos.suprx
vs0:sys/external/livearea_util.suprx
vs0:sys/external/mail_api_for_local_libc.suprx
vs0:sys/external/near_profile.suprx
vs0:sys/external/notification_util.suprx
vs0:sys/external/np_activity.suprx
vs0:sys/external/np_activity_sdk.suprx
vs0:sys/external/np_basic.suprx
vs0:sys/external/np_commerce2.suprx
vs0:sys/external/np_common.suprx
vs0:sys/external/np_common_ps4.suprx
vs0:sys/external/np_friend_privacylevel.suprx
vs0:sys/external/np_kdc.suprx
vs0:sys/external/np_manager.suprx
vs0:sys/external/np_matching2.suprx
vs0:sys/external/np_message.suprx
vs0:sys/external/np_message_contacts.suprx
vs0:sys/external/np_message_dialog_impl.suprx
vs0:sys/external/np_message_padding.suprx
vs0:sys/external/np_party.suprx
vs0:sys/external/np_ranking.suprx
vs0:sys/external/np_signaling.suprx
vs0:sys/external/np_sns_facebook.suprx
vs0:sys/external/np_trophy.suprx
vs0:sys/external/np_tus.suprx
vs0:sys/external/np_utility.suprx
vs0:sys/external/np_webapi.suprx
vs0:sys/external/party_member_list.suprx
vs0:sys/external/psmkdc.suprx
vs0:sys/external/pspnet_adhoc.suprx
vs0:sys/external/signin_ext.suprx
vs0:sys/external/sqlite.suprx
vs0:sys/external/store_checkout_plugin.suprx
vs0:sys/external/trigger_util.suprx
vs0:sys/external/web_ui_plugin.suprx
vs0:sys/internal
vs0:tool
vs0:vsh/common/app_settings.suprx
vs0:vsh/common/app_settings_plugin.rco
vs0:vsh/common/auth_plugin.rco
vs0:vsh/common/auth_plugin.suprx
vs0:vsh/common/av_content_handler.suprx
vs0:vsh/common/backup_restore.suprx
vs0:vsh/common/content_operation.suprx
vs0:vsh/common/dbrecovery_plugin.rco
vs0:vsh/common/dbrecovery_plugin.suprx
vs0:vsh/common/dbsetup.suprx
vs0:vsh/common/libBEAVCorePlayer.suprx
vs0:vsh/common/libFflMp4.suprx
vs0:vsh/common/libSenvuabsFFsdk.suprx
vs0:vsh/common/libical.suprx
vs0:vsh/common/libicalss.suprx
vs0:vsh/common/libmarlin.suprx
vs0:vsh/common/libmarlin_pb.suprx
vs0:vsh/common/libmarlindownloader.suprx
vs0:vsh/common/libmtp.suprx
vs0:vsh/common/libmtphttp.suprx
vs0:vsh/common/libmtphttp_wrapper.suprx
vs0:vsh/common/libvideoprofiler.suprx
vs0:vsh/common/mail_api_for_local.suprx
vs0:vsh/common/mms/AACPromoter.suprx
vs0:vsh/common/mms/Mp3Promoter.suprx
vs0:vsh/common/mms/MsvPromoter.suprx
vs0:vsh/common/mms/RiffPromoter.suprx
vs0:vsh/common/mms/SensMe.suprx
vs0:vsh/common/mms/bmp_promoter.suprx
vs0:vsh/common/mms/db_template/AVContentMusic.db
vs0:vsh/common/mms/db_template/AVContentPhoto.db
vs0:vsh/common/mms/db_template/AVContentVideo.db
vs0:vsh/common/mms/db_template/addressbook.db
vs0:vsh/common/mms/db_template/calendar.db
vs0:vsh/common/mms/db_template/friends.db
vs0:vsh/common/mms/db_template/grpmsgui.db
vs0:vsh/common/mms/db_template/messages.db
vs0:vsh/common/mms/db_template/near.db
vs0:vsh/common/mms/gif_promoter.suprx
vs0:vsh/common/mms/jpeg_promoter.suprx
vs0:vsh/common/mms/meta_gen.suprx
vs0:vsh/common/mms/png_promoter.suprx
vs0:vsh/common/mms/tiff_promoter.suprx
vs0:vsh/common/mtp_client.suprx
vs0:vsh/common/mtpr3.suprx
vs0:vsh/common/np_grief_report.suprx
vs0:vsh/common/webcore.suprx
vs0:vsh/etc/index.dat
vs0:vsh/game/contents
vs0:vsh/game/gamecard_installer_plugin.rco
vs0:vsh/game/gamecard_installer_plugin.suprx
vs0:vsh/game/gamedata_plugin.rco
vs0:vsh/game/gamedata_plugin.suprx
vs0:vsh/game/psm/contents/LA_DeveloperLink.png
vs0:vsh/game/psm/contents/LA_bg.png
vs0:vsh/game/psm/contents/notice_frame.xml
vs0:vsh/game/psm/runtime_icon.png
vs0:vsh/game/psm/runtime_version.txt
vs0:vsh/game/psp_icon_base.raw
vs0:vsh/import_savedata/import_savedata_plugin.rco
vs0:vsh/initialsetup/firstboot_plugin.rco
vs0:vsh/initialsetup/initialsetup.self
vs0:vsh/initialsetup/initialsetup_plugin.rco
vs0:vsh/initialsetup/sce_sys/param.sfo
vs0:vsh/mtpresponder/CMAInstaller.img
vs0:vsh/mtpresponder/DevIcon.fil
vs0:vsh/online_storage/online_storage_plugin.rco
vs0:vsh/online_storage/online_storage_plugin.suprx
vs0:vsh/shell/applauncher_plugin.rco
vs0:vsh/shell/auth_reset_plugin.rco
vs0:vsh/shell/auth_reset_plugin.suprx
vs0:vsh/shell/builtin_service_info.rco
vs0:vsh/shell/coldboot_plugin.rco
vs0:vsh/shell/download_plugin.rco
vs0:vsh/shell/idu_update_plugin.rco
vs0:vsh/shell/idu_update_plugin.suprx
vs0:vsh/shell/ime_plugin.rco
vs0:vsh/shell/ime_plugin.suprx
vs0:vsh/shell/impose_net_plugin.rco
vs0:vsh/shell/impose_net_plugin.suprx
vs0:vsh/shell/impose_plugin.rco
vs0:vsh/shell/indicator_plugin.rco
vs0:vsh/shell/liblocation_permission.suprx
vs0:vsh/shell/livearea/a1.rco
vs0:vsh/shell/livearea/a2.rco
vs0:vsh/shell/livearea/a3.rco
vs0:vsh/shell/livearea/a4.rco
vs0:vsh/shell/livearea/a5.rco
vs0:vsh/shell/livearea/ad0.rco
vs0:vsh/shell/livearea/ad1.rco
vs0:vsh/shell/livearea/ad2.rco
vs0:vsh/shell/livearea/ad3.rco
vs0:vsh/shell/livearea/ad4.rco
vs0:vsh/shell/livearea/browser.rco
vs0:vsh/shell/livearea/content_manager.rco
vs0:vsh/shell/livearea/kids.rco
vs0:vsh/shell/livearea/music.rco
vs0:vsh/shell/livearea/nsx1.rco
vs0:vsh/shell/livearea/ps1emu.rco
vs0:vsh/shell/livearea/psmobile.rco
vs0:vsh/shell/livearea/pspemu.rco
vs0:vsh/shell/livearea/vd.rco
vs0:vsh/shell/livearea_icon.png
vs0:vsh/shell/livearea_plugin.rco
vs0:vsh/shell/livespace_db.suprx
vs0:vsh/shell/location_dialog_plugin.suprx
vs0:vsh/shell/location_plugin.rco
vs0:vsh/shell/musiccore_plugin.rco
vs0:vsh/shell/power_manage_plugin.rco
vs0:vsh/shell/shell.self
vs0:vsh/shell/telephony/apn/tel_apn_list0a.ini
vs0:vsh/shell/telephony/apn/tel_apn_list0b.ini
vs0:vsh/shell/telephony/apn/tel_apn_list1a.ini
vs0:vsh/shell/telephony/apn/tel_apn_list1b.ini
vs0:vsh/shell/telephony/apn/tel_apn_list2a.ini
vs0:vsh/shell/telephony/apn/tel_apn_list2b.ini
vs0:vsh/shell/telephony/apn/tel_apn_list3a.ini
vs0:vsh/shell/telephony/apn/tel_apn_list3b.ini
vs0:vsh/shell/telephony/apn/tel_apn_list4a.ini
vs0:vsh/shell/telephony/apn/tel_apn_list4b.ini
vs0:vsh/shell/telephony/apn/tel_apn_list5a.ini
vs0:vsh/shell/telephony/apn/tel_apn_list5b.ini
vs0:vsh/shell/telephony/apn/tel_apn_list6a.ini
vs0:vsh/shell/telephony/apn/tel_apn_list6b.ini
vs0:vsh/shell/telephony/apn/tel_apn_list7a.ini
vs0:vsh/shell/telephony/apn/tel_apn_list7b.ini
vs0:vsh/shell/telephony/apn/tel_apn_list8a.ini
vs0:vsh/shell/telephony/apn/tel_apn_list8b.ini
vs0:vsh/shell/telephony/apn/tel_apn_list9a.ini
vs0:vsh/shell/telephony/apn/tel_apn_list9b.ini
vs0:vsh/shell/telephony/initial_check/tel_initial_check_plugin.rco
vs0:vsh/shell/telephony/initial_check/tel_initial_check_plugin.suprx
vs0:vsh/shell/telephony/tel_antenna_info.ini
vs0:vsh/shell/telephony/tel_apn_list.ini
vs0:vsh/shell/telephony/tel_operator_name_list.ini
vs0:vsh/shell/telephony/tel_operator_profile.ini
vs0:vsh/shell/telephony/telephony_sms.db
vs0:vsh/shell/telephony_plugin.rco
vs0:vsh/shell/theme_plugin.rco
vs0:vsh/shell/topmenu_plugin.rco
vs0:vsh/shell/trophy/bronze_thum.gim
vs0:vsh/shell/trophy/gold_thum.gim
vs0:vsh/shell/trophy/platinum_thum.gim
vs0:vsh/shell/trophy/silver_thum.gim

sa0:data/dic/utf16be/DA/DA/njubase1.a
sa0:data/dic/utf16be/DA/DA/njubase2.a
sa0:data/dic/utf16be/DA/DA/njubase3.a
sa0:data/dic/utf16be/DA/njcon.a
sa0:data/dic/utf16be/DE/njcon.a
sa0:data/dic/utf16be/DE/regular/njexyomi.a
sa0:data/dic/utf16be/DE/regular/njubase1.a
sa0:data/dic/utf16be/DE/regular/njubase2.a
sa0:data/dic/utf16be/DE/regular/njubase3.a
sa0:data/dic/utf16be/EN/GB/njubase1gb.a
sa0:data/dic/utf16be/EN/US/njubase1us.a
sa0:data/dic/utf16be/EN/njcon.a
sa0:data/dic/utf16be/EN/njubase1.a
sa0:data/dic/utf16be/EN/njubase2.a
sa0:data/dic/utf16be/EN/njubase3.a
sa0:data/dic/utf16be/EN/njyomi.a
sa0:data/dic/utf16be/ES/ES/njexyomi.a
sa0:data/dic/utf16be/ES/ES/njubase1.a
sa0:data/dic/utf16be/ES/ES/njubase2.a
sa0:data/dic/utf16be/ES/ES/njubase3.a
sa0:data/dic/utf16be/ES/njcon.a
sa0:data/dic/utf16be/FI/FI/njubase1.a
sa0:data/dic/utf16be/FI/FI/njubase2.a
sa0:data/dic/utf16be/FI/FI/njubase3.a
sa0:data/dic/utf16be/FI/njcon.a
sa0:data/dic/utf16be/FR/FR/regular/njexyomi.a
sa0:data/dic/utf16be/FR/FR/regular/njubase1.a
sa0:data/dic/utf16be/FR/FR/regular/njubase2.a
sa0:data/dic/utf16be/FR/FR/regular/njubase3.a
sa0:data/dic/utf16be/FR/njcon.a
sa0:data/dic/utf16be/IT/IT/njexyomi.a
sa0:data/dic/utf16be/IT/IT/njubase1.a
sa0:data/dic/utf16be/IT/IT/njubase2.a
sa0:data/dic/utf16be/IT/IT/njubase3.a
sa0:data/dic/utf16be/IT/njcon.a
sa0:data/dic/utf16be/JA/16/njexyomi.a
sa0:data/dic/utf16be/JA/16/njfzk.a
sa0:data/dic/utf16be/JA/16/njtan.a
sa0:data/dic/utf16be/JA/16/njubase1.a
sa0:data/dic/utf16be/JA/16/njubase2.a
sa0:data/dic/utf16be/JA/16/text
sa0:data/dic/utf16be/JA/njcon.a
sa0:data/dic/utf16be/KO/njcon.a
sa0:data/dic/utf16be/KO/njexyomi.a
sa0:data/dic/utf16be/KO/njtan.a
sa0:data/dic/utf16be/KO/njubase1.a
sa0:data/dic/utf16be/KO/njubase2.a
sa0:data/dic/utf16be/NL/NL/njubase1.a
sa0:data/dic/utf16be/NL/NL/njubase2.a
sa0:data/dic/utf16be/NL/NL/njubase3.a
sa0:data/dic/utf16be/NL/njcon.a
sa0:data/dic/utf16be/NO/NO/njubase1.a
sa0:data/dic/utf16be/NO/NO/njubase2.a
sa0:data/dic/utf16be/NO/NO/njubase3.a
sa0:data/dic/utf16be/NO/njcon.a
sa0:data/dic/utf16be/PL/PL/njubase1.a
sa0:data/dic/utf16be/PL/PL/njubase2.a
sa0:data/dic/utf16be/PL/PL/njubase3.a
sa0:data/dic/utf16be/PL/njcon.a
sa0:data/dic/utf16be/PT/BR/regular/njexyomi.a
sa0:data/dic/utf16be/PT/BR/regular/njubase1.a
sa0:data/dic/utf16be/PT/BR/regular/njubase2.a
sa0:data/dic/utf16be/PT/BR/regular/njubase3.a
sa0:data/dic/utf16be/PT/PT/regular/njexyomi.a
sa0:data/dic/utf16be/PT/PT/regular/njubase1.a
sa0:data/dic/utf16be/PT/PT/regular/njubase2.a
sa0:data/dic/utf16be/PT/PT/regular/njubase3.a
sa0:data/dic/utf16be/PT/njcon.a
sa0:data/dic/utf16be/RU/njcon.a
sa0:data/dic/utf16be/RU/regular/njexyomi.a
sa0:data/dic/utf16be/RU/regular/njubase1.a
sa0:data/dic/utf16be/RU/regular/njubase2.a
sa0:data/dic/utf16be/RU/regular/njubase3.a
sa0:data/dic/utf16be/SV/SV/njubase1.a
sa0:data/dic/utf16be/SV/SV/njubase2.a
sa0:data/dic/utf16be/SV/SV/njubase3.a
sa0:data/dic/utf16be/SV/njcon.a
sa0:data/dic/utf16be/ZH/CN/njcon.a
sa0:data/dic/utf16be/ZH/CN/pinyin/GB18030/njexyomi.a
sa0:data/dic/utf16be/ZH/CN/pinyin/GB18030/njexyomi.ad1
sa0:data/dic/utf16be/ZH/CN/pinyin/GB18030/njtan.a
sa0:data/dic/utf16be/ZH/CN/pinyin/GB18030/njtan.ad1.arz
sa0:data/dic/utf16be/ZH/CN/pinyin/GB18030/njubase1.a
sa0:data/dic/utf16be/ZH/CN/pinyin/GB18030/njubase1.ad1.arz
sa0:data/dic/utf16be/ZH/CN/pinyin/GB18030/njubase2.a
sa0:data/dic/utf16be/ZH/CN/pinyin/GB18030/njubase2.ad1.arz
sa0:data/dic/utf16be/ZH/CN/pinyin/GB18030/njubase3.a
sa0:data/dic/utf16be/ZH/CN/pinyin/GB18030/njubase3.ad1.arz
sa0:data/dic/utf16be/ZH/HK/jyutping/njexyomi.a
sa0:data/dic/utf16be/ZH/HK/jyutping/njexyomi.ad1
sa0:data/dic/utf16be/ZH/HK/jyutping/njtan.a
sa0:data/dic/utf16be/ZH/HK/jyutping/njtan.ad1.arz
sa0:data/dic/utf16be/ZH/HK/jyutping/njubase1.a
sa0:data/dic/utf16be/ZH/HK/jyutping/njubase1.ad1.arz
sa0:data/dic/utf16be/ZH/HK/jyutping/njubase2.a
sa0:data/dic/utf16be/ZH/HK/jyutping/njubase2.ad1.arz
sa0:data/dic/utf16be/ZH/HK/njcon.a
sa0:data/dic/utf16be/ZH/TW/bopomofo/njexyomi.a
sa0:data/dic/utf16be/ZH/TW/bopomofo/njexyomi.ad1
sa0:data/dic/utf16be/ZH/TW/bopomofo/njtan.a
sa0:data/dic/utf16be/ZH/TW/bopomofo/njtan.ad1.arz
sa0:data/dic/utf16be/ZH/TW/bopomofo/njubase1.a
sa0:data/dic/utf16be/ZH/TW/bopomofo/njubase1.ad1.arz
sa0:data/dic/utf16be/ZH/TW/bopomofo/njubase2.a
sa0:data/dic/utf16be/ZH/TW/bopomofo/njubase2.ad1.arz
sa0:data/dic/utf16be/ZH/TW/cangjie/njcangjie.a.arz
sa0:data/dic/utf16be/ZH/TW/njcon.a
sa0:data/dic/utf16be/ZH/TW/pinyin/njexyomi.a
sa0:data/dic/utf16be/ZH/TW/pinyin/njexyomi.ad1
sa0:data/dic/utf16be/ZH/TW/pinyin/njtan.a
sa0:data/dic/utf16be/ZH/TW/pinyin/njtan.ad1.arz
sa0:data/dic/utf16be/ZH/TW/pinyin/njubase1.a
sa0:data/dic/utf16be/ZH/TW/pinyin/njubase1.ad1.arz
sa0:data/dic/utf16be/ZH/TW/pinyin/njubase2.a
sa0:data/dic/utf16be/ZH/TW/pinyin/njubase2.ad1.arz
sa0:data/font/emoji
sa0:data/font/pgf/arib.pgf
sa0:data/font/pgf/gb3s1518.bwfon
sa0:data/font/pgf/jpn0.pgf
sa0:data/font/pgf/kr0.pgf
sa0:data/font/pgf/ltn0.pgf
sa0:data/font/pgf/ltn1.pgf
sa0:data/font/pgf/ltn10.pgf
sa0:data/font/pgf/ltn11.pgf
sa0:data/font/pgf/ltn12.pgf
sa0:data/font/pgf/ltn13.pgf
sa0:data/font/pgf/ltn14.pgf
sa0:data/font/pgf/ltn15.pgf
sa0:data/font/pgf/ltn2.pgf
sa0:data/font/pgf/ltn3.pgf
sa0:data/font/pgf/ltn4.pgf
sa0:data/font/pgf/ltn5.pgf
sa0:data/font/pgf/ltn6.pgf
sa0:data/font/pgf/ltn7.pgf
sa0:data/font/pgf/ltn8.pgf
sa0:data/font/pgf/ltn9.pgf
sa0:data/font/pvf/cn0.pvf
sa0:data/font/pvf/cn1.pvf
sa0:data/font/pvf/jpn0.pvf
sa0:data/font/pvf/jpn1.pvf
sa0:data/font/pvf/jpn2.pvf
sa0:data/font/pvf/jpn3.pvf
sa0:data/font/pvf/kr0.pvf
sa0:data/font/pvf/kr1.pvf
sa0:data/font/pvf/kr2.pvf
sa0:data/font/pvf/kr3.pvf
sa0:data/font/pvf/ltn0.pvf
sa0:data/font/pvf/ltn1.pvf
sa0:data/font/pvf/ltn2.pvf
sa0:data/font/pvf/ltn3.pvf
sa0:data/font/pvf/ltn4.pvf
sa0:data/font/pvf/ltn5.pvf
sa0:data/font/pvf/ltn6.pvf
sa0:data/font/pvf/ltn7.pvf
sa0:data/font/pvf/music_arib.pvf
sa0:data/font/pvf/psexchar.pvf
sa0:data/libhwr/all2_u.bin.hwz
sa0:data/libhwr/all_u.bin.hwz
sa0:data/libhwr/alnum_native_u.bin.hwz
sa0:data/libhwr/alnum_u.bin.hwz
sa0:data/libhwr/alnumlat1_u.bin.hwz
sa0:data/libhwr/chinese_simplified1_u.bin.hwz
sa0:data/libhwr/chinese_traditional_u.bin.hwz
sa0:data/libhwr/dan_nor_u.bin.hwz
sa0:data/libhwr/dutch_u.bin.hwz
sa0:data/libhwr/french_u.bin.hwz
sa0:data/libhwr/german_u.bin.hwz
sa0:data/libhwr/hangul_u.bin.hwz
sa0:data/libhwr/hira_u.bin.hwz
sa0:data/libhwr/icelandic_u.bin.hwz
sa0:data/libhwr/italian_u.bin.hwz
sa0:data/libhwr/kanji2_u.bin.hwz
sa0:data/libhwr/kanji_u.bin.hwz
sa0:data/libhwr/kata_u.bin.hwz
sa0:data/libhwr/korean_u.bin.hwz
sa0:data/libhwr/polish_u.bin.hwz
sa0:data/libhwr/portuguese_u.bin.hwz
sa0:data/libhwr/russian_u.bin.hwz
sa0:data/libhwr/spanish_u.bin.hwz
sa0:data/libhwr/swe_fin_u.bin.hwz

tm0:npdrm/act.dat
tm0:nphome
tm0:SceIoTrash

vd0:history/data.bak
vd0:history/data.bin
vd0:network/ifstat.bin
vd0:registry/system.dreg
vd0:registry/system.ireg
vd0:SceIoTrash

ud0:PSP2UPDATE
ud0:SceIoTrash

pd0:app/NPXS10007/data/guidemovie/movie.mp4
pd0:app/NPXS10007/eboot.bin
pd0:app/NPXS10007/HelloFace/DATA_GRAPH.BPM
pd0:app/NPXS10007/HelloFace/DATA_MAIN.BPM
pd0:app/NPXS10007/package/boundwave.tar
pd0:app/NPXS10007/package/firsttouch.tar
pd0:app/NPXS10007/package/gamestart.tar
pd0:app/NPXS10007/package/gamestart_locale_cs.tar
pd0:app/NPXS10007/package/gamestart_locale_ct.tar
pd0:app/NPXS10007/package/gamestart_locale_da.tar
pd0:app/NPXS10007/package/gamestart_locale_du.tar
pd0:app/NPXS10007/package/gamestart_locale_fi.tar
pd0:app/NPXS10007/package/gamestart_locale_fr.tar
pd0:app/NPXS10007/package/gamestart_locale_ge.tar
pd0:app/NPXS10007/package/gamestart_locale_it.tar
pd0:app/NPXS10007/package/gamestart_locale_ja.tar
pd0:app/NPXS10007/package/gamestart_locale_ko.tar
pd0:app/NPXS10007/package/gamestart_locale_no.tar
pd0:app/NPXS10007/package/gamestart_locale_pb.tar
pd0:app/NPXS10007/package/gamestart_locale_pl.tar
pd0:app/NPXS10007/package/gamestart_locale_pr.tar
pd0:app/NPXS10007/package/gamestart_locale_ru.tar
pd0:app/NPXS10007/package/gamestart_locale_sp.tar
pd0:app/NPXS10007/package/gamestart_locale_sw.tar
pd0:app/NPXS10007/package/opening.tar
pd0:app/NPXS10007/package/photopazzle.tar
pd0:app/NPXS10007/package/survival.tar
pd0:app/NPXS10007/package/topmenu2.tar
pd0:app/NPXS10007/package/ui.tar
pd0:app/NPXS10007/sce_module/libc.suprx
pd0:app/NPXS10007/sce_module/libfios2.suprx
pd0:app/NPXS10007/sce_module/libult.suprx
pd0:app/NPXS10007/sce_pfs/files.db
pd0:app/NPXS10007/sce_pfs/unicv.db
pd0:app/NPXS10007/sce_sys/clearsign
pd0:app/NPXS10007/sce_sys/icon0.png
pd0:app/NPXS10007/sce_sys/keystone
pd0:app/NPXS10007/sce_sys/livearea/contents/bg0.png
pd0:app/NPXS10007/sce_sys/livearea/contents/mov_icon.png
pd0:app/NPXS10007/sce_sys/livearea/contents/startup.png
pd0:app/NPXS10007/sce_sys/livearea/contents/template.xml
pd0:app/NPXS10007/sce_sys/package/body.bin
pd0:app/NPXS10007/sce_sys/package/head.bin
pd0:app/NPXS10007/sce_sys/package/stat.bin
pd0:app/NPXS10007/sce_sys/package/tail.bin
pd0:app/NPXS10007/sce_sys/package/temp.bin
pd0:app/NPXS10007/sce_sys/param.sfo
pd0:app/NPXS10007/sce_sys/pic0.png
pd0:app/NPXS10007/sce_sys/trophy/NPWR02174_00/TROPHY.TRP
pd0:app/NPXS10007/shader/vsd/irh_surface_f.psp2.vsd
pd0:app/NPXS10007/shader/vsd/irh_surface_v.psp2.vsd
pd0:app/NPXS10007/sound/BGM_InGame1.sxd
pd0:app/NPXS10007/sound/BGM_InGame2.sxd
pd0:app/NPXS10007/sound/BGM_TopMenu.sxd
pd0:app/NPXS10007/sound/narration/cs/WP_VO.sxd1
pd0:app/NPXS10007/sound/narration/cs/WP_VO.sxd2
pd0:app/NPXS10007/sound/narration/ct/WP_VO.sxd1
pd0:app/NPXS10007/sound/narration/ct/WP_VO.sxd2
pd0:app/NPXS10007/sound/narration/da/WP_VO.sxd1
pd0:app/NPXS10007/sound/narration/da/WP_VO.sxd2
pd0:app/NPXS10007/sound/narration/du/WP_VO.sxd1
pd0:app/NPXS10007/sound/narration/du/WP_VO.sxd2
pd0:app/NPXS10007/sound/narration/en/WP_VO.sxd1
pd0:app/NPXS10007/sound/narration/en/WP_VO.sxd2
pd0:app/NPXS10007/sound/narration/fi/WP_VO.sxd1
pd0:app/NPXS10007/sound/narration/fi/WP_VO.sxd2
pd0:app/NPXS10007/sound/narration/fr/WP_VO.sxd1
pd0:app/NPXS10007/sound/narration/fr/WP_VO.sxd2
pd0:app/NPXS10007/sound/narration/ge/WP_VO.sxd1
pd0:app/NPXS10007/sound/narration/ge/WP_VO.sxd2
pd0:app/NPXS10007/sound/narration/it/WP_VO.sxd1
pd0:app/NPXS10007/sound/narration/it/WP_VO.sxd2
pd0:app/NPXS10007/sound/narration/ja/WP_VO.sxd1
pd0:app/NPXS10007/sound/narration/ja/WP_VO.sxd2
pd0:app/NPXS10007/sound/narration/ko/WP_VO.sxd1
pd0:app/NPXS10007/sound/narration/ko/WP_VO.sxd2
pd0:app/NPXS10007/sound/narration/no/WP_VO.sxd1
pd0:app/NPXS10007/sound/narration/no/WP_VO.sxd2
pd0:app/NPXS10007/sound/narration/pb/WP_VO.sxd1
pd0:app/NPXS10007/sound/narration/pb/WP_VO.sxd2
pd0:app/NPXS10007/sound/narration/pl/WP_VO.sxd1
pd0:app/NPXS10007/sound/narration/pl/WP_VO.sxd2
pd0:app/NPXS10007/sound/narration/pr/WP_VO.sxd1
pd0:app/NPXS10007/sound/narration/pr/WP_VO.sxd2
pd0:app/NPXS10007/sound/narration/ru/WP_VO.sxd1
pd0:app/NPXS10007/sound/narration/ru/WP_VO.sxd2
pd0:app/NPXS10007/sound/narration/sp/WP_VO.sxd1
pd0:app/NPXS10007/sound/narration/sp/WP_VO.sxd2
pd0:app/NPXS10007/sound/narration/sw/WP_VO.sxd1
pd0:app/NPXS10007/sound/narration/sw/WP_VO.sxd2
pd0:app/NPXS10007/sound/narration/uk/WP_VO.sxd1
pd0:app/NPXS10007/sound/narration/uk/WP_VO.sxd2
pd0:app/NPXS10007/sound/narration/us
pd0:app/NPXS10007/sound/narration/WP_bus_rev.sxd
pd0:app/NPXS10007/sound/WP_15P_SE.sxd
pd0:app/NPXS10007/sound/WP_1st_SE.sxd
pd0:app/NPXS10007/sound/WP_BB_SE.sxd
pd0:app/NPXS10007/sound/WP_COM_SE.sxd
pd0:app/NPXS10007/sound/WP_SW_SE.sxd
pd0:app/NPXS10007/sound/WP_TOP_SE.sxd
pd0:data/systembgm/home.at9
pd0:data/systembgm/initialsetup.at9
pd0:data/systembgm/near.at9
pd0:data/systembgm/signup.at9
pd0:data/systembgm/store.at9
pd0:license/app/NPXS10007/6488b73b912a753a492e2714e9b38bc7.rif

 ur0:user/00/psnmsg/messages.db
 ur0:user/00/shell/act.db
 ur0:user/00/near/data_sys/db/near.db
 ur0:user/00/near/data_sys/db/near_activity.db
 ur0:shell/db/app.db
 ur0:shell/theme/
 ur0:shell/appmeta/<titleid>/ <-- e.g. ur0:appmeta/PCSI00001/pic0.png
 ur0:shell/tabpaper/ .dds    <-- theme files (wallpaper)

ux0 is the memory card, example:
 ux0:app/<titleid>/                              <-- App files
 ux0:appmeta/<titleid>/                          <-- A kind of cache for icons and things
 ux0:bgdl/                                       <-- Where PKGs are download & extracted from PSN games
 ux0:cache/<titleid>/                            <-- PSM Dev installed programs
 ux0:calendar/                                   <-- Calendar files
 ux0:data/                                       <-- Core Dumps
 ux0:email/                                      <-- Email app files
 ux0:license/app/<titleid>/*.rif                 <-- License files for games
 ux0:mms/
 ux0:mtp/pspmtp.db                               <-- CMA connections database
 ux0:music/<random byte>/*.mp3                   <-- Music files
 ux0:patch/<titleid>/                            <-- Game update files
 ux0:picture/ALL/<random byte>/*.jpg             <-- Pictures
 ux0:psm/<titleid>/                              <-- Official PSM games
 ux0:pspemu/                                     <-- ePSP (ms0)
 ux0:SceIoTrash/                                 <-- Where things go when you delete them
 ux0:temp/                                       <-- Temp files directory. CMA backup, etc.
 ux0:theme/<contentid>/                          <-- Official Theme files
 ux0:user/
 ux0:video/<random byte>/*.mp4                   <-- Videos location
 ux0:iconlayout.ini                              <-- LiveArea icon layout
 ux0:id.dat                                      <-- Account ID info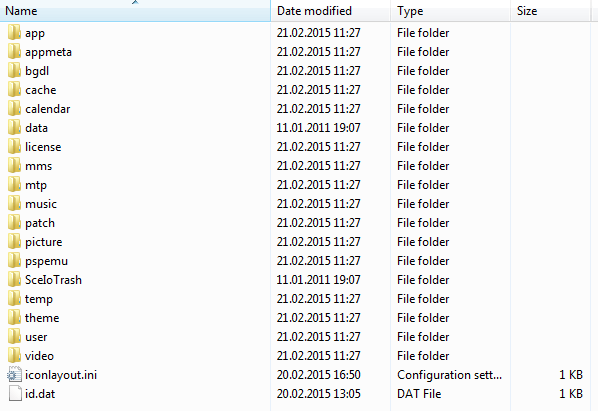 Other files (inside devkit and retail PUPs)[edit | edit source]
cuiupper.self (otherwise known as binary1.self)
guiupper.self (otherwise known as binary0.self)

| Filename link | Description |
| --- | --- |
| .at9 | Audio sounds |
| .db | Database files |
| .dds | Graphic/Texture images |
| .gim | Graphic/Texture images |
| .gxt | Graphic/Texture images |
| .gz | Archive/Compressed files |
| .pvr | Graphic/Texture images |
| .rco | Resource Container Objects |
| .sfo | System File Objects |
| .tar | Archive/Compressed files |
| .tga | Graphic/Texture images |
| .TRP (version 2) | Trophies |
| .vpk | Archive/Compressed files |